Whale Watching on Maui
SUPPORT LAHAINA:

We are donating 20% of our profit from ALL FUTURE 2023 MAUI TOUR BOOKINGS to Lahaina fire relief efforts!!!
---
No, you don't have to go on a boat to see whales if you are here during the right time of the year. It is common to see people standing on a hillside overlooking the ocean and watching the signs of distant whale activity through binoculars.
You can often SEE whales from shore ... but you can't EXPERIENCE them from that distance. There is a tremendous difference between watching a whale splashing in the water two miles away and experiencing the thrill of looking over the edge of the boat and having one of these gentle giants swim directly underneath you. If you are here during peak season from December 15th to April 15th, do yourself a favor and go on a whale watch.
NOTE: Most whale watches will be operating starting Christmas week and continuing through early to mid April.
---
Whale Explorer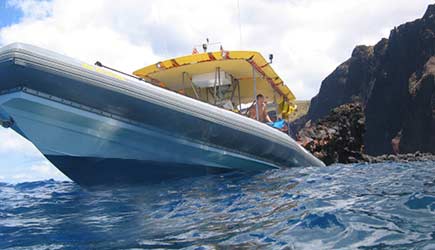 Our favorite whale watch ... it's F-A-S-T which means you spend more time watching whales and less time looking for them. The Explorer is a hard-shelled boat with an inflatable edge (like a large zodiac) which gives a fast, smooth ride and a front row seat for every passenger. The speed of these boats adds another 15-30 minutes of actual whale watching during a two hour whale watch compared to larger boats. This boat leaves from Lahaina harbor, and they have trips daily at 7:45am, 10am, 12:30pm, and 2:30pm. Please note that the size of this vessel means that the ride is more adventurous than larger boats. NO CHILDREN UNDER 5.
Whale Explorer is offering a WHALE of a combo deal ... go on one of their morning snorkel trips to Lanai and save $15 per adult off the list price of a whale watch. For more information on this special combo, see our Lanai dolphin page.
Whale Explorer Whale Watch Rate
$80.61 per Adult, $57.90 per Child (5-12) (Hawaii sales tax included)
SEA / V
---
Quicksilver Whale Watch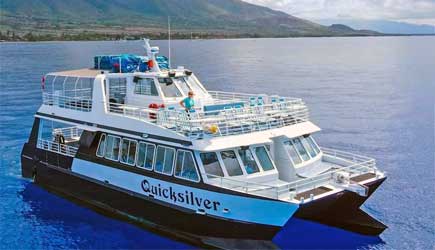 Quicksilver is a large, stable powered catamaran with an upper deck. This vantage point up high gives a commanding view of the ocean and makes it easier to see whales while they are under the surface. It is the best value in a whale watch too, with an especially affordable price at 7:30am Early Bird, and a reasonable price for the 10am Peak Time whale watch. It's also a good choice for families with younger children. One free child 6 and under per paying adult! Quicksilver Whale Watches operate on Sunday, Monday, Wednesday, Friday, and Saturday (mid-December through mid-April) at 7:30am and 10:00am. Check in is at the Main loading dock of Lahaina Harbor
Quicksilver 7:30am Whale Watch Rate
$42.95 per Adult, $32.95 per Paying Child (12 and under), Free Child (6 and under) FREE (plus 7.167% Hawaii sales/harbor tax)
Quicksilver 10am Whale Watch Rate
$56.95 per Adult, $46.95 per Paying Child (12 and under), Free Child (6 and under) FREE (plus 7.167% Hawaii sales/harbor tax)
QS / V
---
Teralani Whale Watch
Departing every day from Kaanapali Beach, the Teralani offers premium two-hour whale watches at 10:00am and 12:30pm which includes snacks, beer, wine, soda, and juice. Their beautiful 65' sailing catamarans pull right up to the sand and barefoot guests walk through the lapping surf to board. You'll probably get your feet wet. This is one of the few whale watches that includes beverages!
Teralani Whale Watch Rate
$84.33 per Adult, $69.33 per Teen (13-20), $59.33 per Child (3-12), $49.33 per Infants (under 3) (plus 7.167% Hawaii sales/harbor tax)
The Teralani operates their whale watch until April 1st.
TSE / V
---
Blue Water Rafting Whale Watch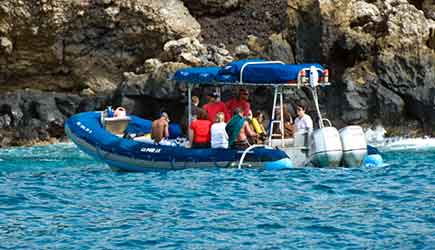 Departing from Kihei Boat Ramp, Blue Water Rafting offers 90 minute tours on their high-speed RHIBs. (Rigid Hull Inflatable Boat). The speed of these rafts gets you to the whales quickly, and the waters off Kihei are shallow and many whale calves are born in this area. This is a great option for those who don't want to drive to the west side of the island. Dedicated whale watches are held daily at 8am, 10am, and 12pm. (They also offer a whale watch / Molokini Express combo found on our Molokini page.) Note: No one with neck or back injuries, no one pregnant, and minimum age is 5.
Blue Water Rafting operates their dedicated whale watches from January 15th to March 15th.
Blue Water Rafting Whale Watch Rate
$80.65 per Adult, $69.89 per Child (4-12) (Hawaii sales tax included)
BWR5 / V
---
Ultimate 2hr Whale Watch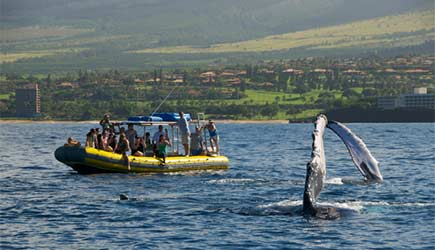 Ultimate Whale Watch tours have fast and safe rafting vessels that are low to the water and perfect for close encounters. The small groups make every seat a front fow seat! They guarantee whale encounters and tickets support marine life research. You will learn more about whales from the marine naturalist guides, and even get to hear whales through a hydrophone. Their vessels Wiki Wahine & Wahine Hana are 27ft long. Coast guard approved for 24 guests, and they only allow 18 guests on boat. There are some seats and some pontoon seating. These vessels do not have a bathroom. The Wahine Kai vessel is 42ft long. The coast guard approved for 32 guests, and they only allow 26 guests on boat. It has most regular seating and some pontoon seating. Wahine Kai also has a bathroom and freshwater shower onboard. All of their vessels are low to water with 70% shade. All whale watch tours includes purified water and reef safe sunscreen. They depart from Lahaina and are offered daily. Minimum age is 4 years old and no one with back or neck injuries or pregnant women.
Ultimate 2hr Whale Watch Rate
$65.00 per Adult, $45.00 per Child (4-12) (plus 7.1667% Hawaii sales/harbor tax)
Their 2 hour Whale Watch is offered at 9:05am, 1:20pm, and 1:50pm. Capacity ranges from 18-26 passengers depending on which vessel they are operating at your tour time.
Ultimate VIP 2hr Whale Watch Rate
$98.00 per Adult, $98.00 per Child (4-12) (plus 7.1667% Hawaii sales/harbor tax)
Their VIP Whale Watch is also 2 hours in length but is limited to just 12 guests! The VIP Whale Watch is offered at 7:45am, 1:45pm, and 4:00pm.
ULT / V
---
Cruise Ship Clients

NCL cruise ship passengers in Kahului are able to do a whale watch on either day they are in port in Kahului. Lahaina whale watches (which we prefer) are an hour drive by rental car. We can arrange a rental car with shuttle pick-up at the harbor for $39 per day; see our rental car page for more information.
Lahaina cruise ship passengers can do whale watching while in port since the Whale Express and Spirit of Lahaina both leave from the same harbor where your cruise ship tender arrives. You can book either the midmorning, noon, or early afternoon time slots.
ACTIVITY TIPS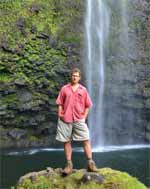 No, you don't have to go on a boat to see whales. During the peak season (mid-January to mid-April) it is very common to be able to see whales from the shore. But these sightings are usually pretty far away ... it is not a particularly impressive sight to watch a whale jump out of the water three miles away. And these creatures are SO impressive when you experience them close-up. There is a big difference between SEEING a whale and EXPERIENCING a whale. There is a popular whale watching site along the Pali Highway a few miles west of Maalaea Harbor. The scenic overlook there is often packed during peak whale season with people who are too cheap to spend $30 to really experience these gentle giants. Do yourself a favor ... go on a whale watching cruise.
The Humpback Whales begin to arrive in November, and most of them have arrived by the beginning of January. Whale Searches usually begin sometime around Thanksgiving ... sightings that early in the season may not be guaranteed. That changes in December. During the peak season all the boats guarantee that you will see whales. If you are here in February you won't have to worry about getting skunked ... it will be whale soup out there! They love the warm, shallow waters between Maui, Kahoolawe, Molokai, and Lanai. 
There are so many boats that do whale watching, I couldn't even begin to list them here. My favorite boat is the Whale Explorer because it is a smaller, FAST boat which guarantees you spend less time getting to the whales and more time actually watching them. This kind of raft isn't for everyone though; they don't allow anyone with neck or back injuries or anyone pregnant as the ride can be bumpy at times.
How close will you get to the whales? That depends on the whales. By law, the boats must stop 100 yards away from a whale. They are incredibly curious animals though, and they OFTEN approach much closer than that. Sometimes they mug the boat, and you may get the rare treat of smelling whale breath! The sound of a spouting whale is something you will not forget ... it is much like the puff of a steam engine locomotive.
Best time of day? The whales will put on a good show anytime you like. The morning tends to be less windy though. The mid-morning trips usually fill up a few days in advance, so reserve in advance to get the best time of day!