Maui Kayak Tours
SUPPORT LAHAINA:

We are donating 20% of our profit from ALL FUTURE 2023 MAUI TOUR BOOKINGS to Lahaina fire relief efforts!!!
---
South Pacific Kayaks has resumed tour operations. Due to Covid-19 they are not currently providing any food on their tours.
Discover a different side of Maui when you paddle the stunning coastlines and pristine tropical waters teaming with sealife and coral reefs. These tours are all offered with South Pacific Kayaks, Maui's most respected kayak touring company. They distinguish themselves with the island's best guides and equipment. All South Pacific kayak guides are CPR and first aid trained for your safety and security. They offer an abundance of knowledge and treat each guest with professionalism and a true aloha spirit. All tours include:
Beach Instructions and Safety Talk
Guide Assisted Launch and Landings
Quality Snorkel Equipment and Personal Flotation Devices
Quality Ocean Kayaks
CPR & First Aid Certified Guides with Many Years Ocean Experience - the Best!
NOTE: There are no "children's rates" on these tours ... price is per "paddler." The reservation form asks for the number of children under 12 just so that they know how many younger paddlers are in the party and so they can have appropriate equipment ready for them. For odd number of guests, a single person will ride solo.
SPK / V
---
Turtle Reef Discovery - 3 Hour
Turtle Reef Discovery 3 Hour Rate
$99.00 per Paddler (plus 7.525% Hawaii sales/harbor tax)
This trip is planned as a leisurely paddle around Makena Bay available to all ability levels and ages (recommended minimum age 5). Whether it's the first time on a kayak or experienced paddlers, this is a wonderful experience. The highlight of this tour is snorkeling with the Hawaiian green sea turtles. This 3 hour trip starts at 7:30am at Makena Landing which is in South Maui a little beyond the Wailea area. This tour is held 7 days a week.
South Maui Premier - 4 Hour
Turtle Reef Premier 4 Hour Rate
$129.00 per Paddler (plus 7.525% Hawaii sales/harbor tax)
A slightly longer version of the Turtle Reef Discovery paddle, which adds another snorkel stop and another mile or so of paddling. Departure time is also 7:30am from the Makena Landing area. Minimum age for this longer trip is 9. This tour is held 7 days a week.
West Side Snorkel Safari - 3 Hour
West Side Snorkel Discovery Rate
$99.00 per Paddler (plus 7.525% Hawaii sales/harbor tax)
This trip is a leisurely paddle around the reefs of the Olowalu shoreline on Maui's west side and provides a convenient trip for people staying the Lahaina / Kaanapali / Kapalua area. It is available to all ability levels and ages (recommended minimum age is 5). This area has some nice shallow-water reef that extends for a long distance from shore. Lots of turtles inhabit this area. This 3 hour trip starts at 7:30am about 10 minutes east of Lahaina along West Maui's southern coast. This tour is held Monday through Friday.
Cruise Ship Clients

NCL cruise ship passengers in Kahului are able to do any of these kayak tours on their second day in port. Transportation is not included, and is most economically done by renting a car. We can arrange a rental car with shuttle pick-up at the harbor; rates vary throughout the year but start around $40 per day in low season; see our rental car page for more information. Drive time is approx. 30 minutes for all tours.
There tours don't work for Lahaina cruise ship passengers because of their early morning start time and the distance from Lahaina Harbor.
ACTIVITY TIPS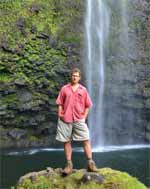 I am very familiar with South Pacific Kayaks and their operation. I've purchased two kayaks from these guys over the years. They are the premier kayak outfitter on Maui, and I recommend their tours highly. There are lots of other kayak companies; some of them are OK and some of them scare me. Go with the best ... these guys really know what they are doing.
The shorter 3 hour tours are suitable for most people in reasonably normal physical condition. The longer tours are a little more demanding and require a little better level of conditioning, but do not require an extreme level of fitness. Most of the kayaks are tandem, so the work load is spread out between two people.
The short tour (3 hours) goes to a spot called "Turtle Town" which is aptly named ... there are many sea turtles here and they are quite used to people swimming around them. You wouldn't know they are an endangered species from the numbers of them that are seen in this area. This is an easy-going paddle trip with kids. This might be the trip for you if you've never paddled a canoe or kayak before, and aren't very familiar with the water. If you don't have kids and you are staying in South Maui, do the longer 4 hour version that includes a second snorkel stop.
For vacationers staying in West Maui there is a 3 hour West Side Snorkel Discovery that takes place in the Olowalu area 8 miles south and east of Lahaina. This area can get winded out though, and there are times that if you are booked on this itinerary you may get a phonecall the evening before your tour saying that the tour has been moved to the Makena area based upon wind forecasts for the next morning. It is a bit of a drive to get down to the South Maui area where these tours take place (about an hour). If they do decide to consolidate the tours on your date you'll have the option to go with the altered location or cancel if you don't want to do the hour drive.
I recommend that you plan a kayak trip near the beginning half of your vacation. If wind or ocean swells force a cancellation of your tour, you have the opportunity to reschedule for a few days later when conditions are more favorable.
Some people ask, "Can't I just rent a kayak and paddle around on my own?" Yes, there are beaches that have double kayaks available to rent for about $40 an hour. They will only allow you to paddle within a few hundred yards of the beach. Going further requires the knowledge of an experienced guide ... someone who is familiar with Hawaii's tricky winds and ocean currents.