Maui Kayak Tours
---
South Pacific Kayaks has resumed tour operations. Due to Covid-19 they are not currently providing any food on their tours.
Discover a different side of Maui when you paddle the stunning coastlines and pristine tropical waters teaming with sealife and coral reefs. These tours are all offered with South Pacific Kayaks, Maui's most respected kayak touring company. They distinguish themselves with the island's best guides and equipment. All South Pacific kayak guides are CPR and first aid trained for your safety and security. They offer an abundance of knowledge and treat each guest with professionalism and a true aloha spirit. All tours include:
Beach Instructions and Safety Talk
Guide Assisted Launch and Landings
Quality Snorkel Equipment and Personal Flotation Devices
Quality Ocean Kayaks
CPR & First Aid Certified Guides with Many Years Ocean Experience - the Best!
NOTE: There are no "children's rates" on these tours ... price is per "paddler." The reservation form asks for the number of children under 12 just so that they know how many younger paddlers are in the party and so they can have appropriate equipment ready for them. For odd number of guests, a single person will ride solo.
SPK / V
---
Pali Sea Cliff Discovery - 4.5 Hour
Pali Sea Cliff Kayak Discovery Rate
$114.00 per Paddler (plus 7.525% Hawaii sales/harbor tax)
This adventure is a very impressive trip with secluded snorkeling sites as well as some truly fantastic views of the Pali Sea Cliffs. The rugged shoreline in this area is a quiet and secluded part of Maui rarely experienced by visitors. A roundtrip paddle along the picturesque shoreline, you will be amazed with the sharp sea cliffs leading down to the waters which are surrounded by stunning coral reefs. Guests are treated to colorful reef eco-systems, and a vast array of vibrant reef fish ... ranging from delicate cleaner wrasses to the colorful parrot fish. The prospect exists to see dolphins, rays, and whales (in season). This trip is a 4.5 mile round-trip paddle and the tour is 4.5 hours in length. This tour begins at the beach park locally known as "Granma's" which is between mile marker 10 and 11 along the Pali Highway a few miles west of Maalaea. The tour begins at 7am and is normally done once a week on Fridays.
You do not have to have kayak experience, but you do need to be in reasonably good physical condition for this tour. Minimum age is 16 for this tour.
South Shore Explorer - 4 Hour
South Shore Explorer Rate
$189.00 per Paddler (plus 7.525% Hawaii sales/harbor tax)
The South Shore Explorer is an unforgettable 6 mile one-way trip down the beautiful south Maui coastline. Enjoy the scenery without having to retrace your route! Paddle along the highly acclaimed south Maui beaches, exclusive beach front homes of south Maui, the high end resorts of Wailea, and through to the renowned Makena Bay area, home to Turtle Town. This route provides you with scenery, exceptional snorkeling opportunities and gives you shoreline views of south Maui second to none. You will meet your guide at Kalama Park in Kihei, where you will launch and paddle one way to Makena Bay. This is a longer one-way paddle but on a normal day, currents and windswill be at your back. Two to three stops will be made along the way to enjoy snorkeling the reefs and watching the green sea turtles along the way. Minimum age for this tour is 10. This tour is held Monday through Friday.
Turtle Reef Discovery - 3 Hour
Turtle Reef Discovery Kayak Rate
$79.00 per Paddler (plus 7.525% Hawaii sales/harbor tax)
This trip is planned as a leisurely paddle around Makena Bay available to all ability levels and ages (recommended minimum age 5). Whether it's the first time on a kayak or experienced paddlers, this is a wonderful experience. The highlight of this tour is snorkeling with the Hawaiian green sea turtles. This 3 hour trip starts at 7:30am at Makena Landing which is in South Maui a little beyond the Wailea area. This tour is held 7 days a week.
South Maui Premier - 4 Hour
South Maui Premier Kayak Rate
$99.00 per Paddler (plus 7.525% Hawaii sales/harbor tax)
A slightly longer version of the Turtle Reef Discovery paddle, which adds another snorkel stop and another mile or so of paddling. Departure time is also 7:30am from the Makena Landing area. Minimum age for this longer trip is 9. This tour is held 7 days a week.
West Side Snorkel Safari - 3 Hour
West Side Snorkel Safari Rate
$79.00 per Paddler (plus 7.525% Hawaii sales/harbor tax)
This trip is a leisurely paddle around the reefs of the Olowalu shoreline on Maui's west side and provides a convenient trip for people staying the Lahaina / Kaanapali / Kapalua area. It is available to all ability levels and ages (recommended minimum age is 5). This area has some nice shallow-water reef that extends for a long distance from shore. Lots of turtles inhabit this area. This 3 hour trip starts at 7:30am about 10 minutes east of Lahaina along West Maui's southern coast. This tour is held Monday through Friday.
Cruise Ship Clients

NCL cruise ship passengers in Kahului are able to do any of these kayak tours on their second day in port. Transportation is not included, and is most economically done by renting a car. We can arrange a rental car with shuttle pick-up at the harbor; rates vary throughout the year but start around $40 per day in low season; see our rental car page for more information. Drive time is approx. 30 minutes for all tours.
Lahaina cruise ship passengers can do these tours only on day 2 (assuming your ship is spending the previous night in Lahaina). All tours are within a 20 minute cab ride from Lahaina, except for the Turtle Reef and South Shore Explorer which are about an hour away and would require a rental car.
ACTIVITY TIPS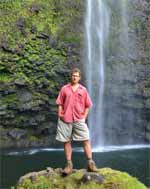 I am very familiar with South Pacific Kayaks and their operation. I've purchased two kayaks from these guys over the years. They are the premier kayak outfitter on Maui, and I recommend their tours highly. There are lots of other kayak companies; some of them are OK and some of them scare me. Go with the best ... these guys really know what they are doing.
The shorter 3 hour tours are suitable for most people in reasonably normal physical condition. The longer tours are a little more demanding and require a little better level of conditioning, but do not require an extreme level of fitness. Most of the kayaks are tandem, so the work load is spread out between two people.
The short tour (3 hours) goes to a spot called "Turtle Town" which is aptly named ... there are many sea turtles here and they are quite used to people swimming around them. You wouldn't know they are an endangered species from the numbers of them that are seen in this area. This is an easy-going paddle trip with kids. This might be the trip for you if you've never paddled a canoe or kayak before, and aren't very familiar with the water. If you don't have kids and you are staying in South Maui, do the longer 4 hour version that includes a second snorkel stop.
If you do have a little paddling experience, try the 4.5 hour Pali Sea Cliff Discovery. Many people who live here on Maui have never seen this area up close from water's level. Access to this area is extremely difficult unless you are a mountain goat, or on this kayak tour! The new route they have just added ... the South Shore Explorer ... is also a great itinerary for people who want a longer paddling experience.
For vacationers staying in West Maui, the most convenient trip is the West Side Snorkel Safari (formerly known as Ukumehame snorkel) ... the area where this trip goes has some excellent reef that extends far off shore (further than most people would want to swim). This gives you a chance to snorkel with coral and lots of fish in places that shore-based snorkelers don't go.
I recommend that you plan a kayak trip near the beginning half of your vacation. If wind or ocean swells force a cancellation of your tour, you have the opportunity to reschedule for a few days later when conditions are more favorable.
Some people ask, "Can't I just rent a kayak and paddle around on my own?" Yes, there are beaches that have double kayaks available to rent for about $40 an hour. They will only allow you to paddle within a few hundred yards of the beach. Going further requires the knowledge of an experienced guide ... someone who is familiar with Hawaii's tricky winds and ocean currents.