About Us
SUPPORT LAHAINA:

We are donating 20% of our profit from ALL FUTURE 2023 MAUI TOUR BOOKINGS to Lahaina fire relief efforts!!!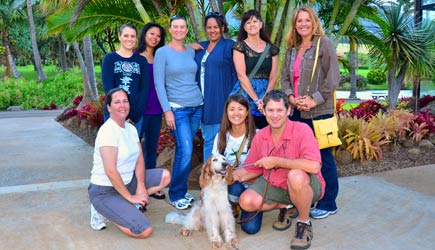 Adventuremaui.com is your personal connection to Maui before you arrive in Hawaii ... we have been serving the tour and activity reservation needs of travelers to Maui for 16+ years. During those years we have assisted hundreds of thousands of happy vacationers to Hawaii. Our service makes it easy for you to make advanced reservations for the tours and activities that you know you'd like to do, and when you plan ahead you will spend more time enjoying your vacation and less time sitting in your hotel room reading brochures.
Our growth and our sucess over the years is based upon several key principles that set us apart from other agencies.
1. We really care about your vacation experience. We want you to go on the tours that are right for you. We are the kind of people who lose sleep in the middle of the night in the rare case where something has gone wrong in a client's itinerary. We do everything we can to assure that your reservations are handled timely and accurately. We send out detailed email confirmations for your events so you have all the details in writing. It doesn't happen often, but when we do make a mistake, we promptly fix it.
2. We really live in Hawaii. Our staff are all long-term Hawaii residents and are salaried travel professionals with years of industry experience. Believe it or not, lots of Hawaii travel websites are based on the mainland. If you call them they may pretend they live in Hawaii, but try asking them to spell the name of the Hawaiian state fish (it's humuhumunukunukuapuaa). Or ask them the name of the mayor of Maui county. We know Hawaii because it's our home. Every one of our staff are salaried travel professionals and we are the only agency that we know of that takes this approach. Most activity companies pay their agents a commission on their sales, which means the person on the other end of the phone doesn't get paid unless they sell you something. When you talk to one of our agents you will get good advice from someone who is getting paid to help you and not getting paid to sell you something. Need to change a date on an existing tour? Need to change the number of people in your party? Our staff is 100% committed to customer service, and the initial sale is just one step in that process.
3. We don't charge for our services ... you can put our local knowledge to work for you for free. We have no ticketing fees or service charges tacked onto the cost of your tour. It never costs you more to make your reservations with us, and in many cases we have great discounted rates that will save you money compared to the cost of buying the same tour from a hotel concierge or cruise ship desk. The operating cost of our office is funded by the tour operators who deeply value the service we provide to you and to them.
4. We really answer the phone. Seriously. Lots of our competitors just don't answer the phone. They just send you straight to voicemail ... it makes you wonder if they really do this for a living! In these days of endless hold times we are committed to helping you as quickly as humanly possible. We are known for having the shortest hold times in the industry ... it is rare to wait more than two minutes to talk to one of our customer service agents. We aren't saying that you will never hit our voicemail during peak busy travel periods just before major holidays, but if you do ... we will call you back within minutes. We promise.
5. We do not promote timeshare sales in any way.Our only goal is to help you have a good time on vacation. Many reservations services in Hawaii have an ulterior motive ... they want to sign you up for a timeshare "tour". They say "We'll give you half off on your snorkel trip if you go to our little 90 minute vacation ownership presentation." Five hours later your half off snorkel tickets don't seem like a very good value after wasting your precious vacation time in a high pressure sales pitch. And if you are gullible enough to buy into their program, you could be paying for those cheap snorkel tickets for the rest of your life! Timeshare sales and promotion is big business in Hawaii ... but it isn't our business. We have nothing to do with it. We want to help you plan the things YOU want to do on vacation; we would never try to talk you into doing something that you don't want to do. We think that's awful. Actually, we KNOW that it's awful.
We look forward to helping you on your next trip to Hawaii. Oh, by the way, we also have an all-islands website called https://adventureinhawaii.com so if you are visiting other islands we can help you with tours there as well.