South Maui Luaus
---
To help you sort through the luau choices, we recommend that you attend a luau on the side of the island where you are staying. This page lists South Maui luaus which work best for clients in Kihei, Wailea, Makena, Maalaea, Kahului, Paia, and Haiku. If you are staying in Lahaina, Kaanapali, Kahana, Napili, or Kapalua visit our West Maui Luau page.
COVID-19 UPDATE: All Luaus will be making adjustments to the food service procedures as self-service buffets will not be possible for the near future.
---
Wailea Marriott "Te Au Moana" Luau
Te Au Moana Luau - General Seating Rate
$139.00 per Adult, $85.00 per Child (6-12), Infants (under 6) FREE (plus 4.167% Hawaii sales tax)
An up-front premium seating option is available for $28 per adult, $15 per child, and $18 per infant (who are otherwise free in general seating).
This luau is held every Monday, Thursday, Friday, and Saturday evening.
This luau is not available on the following dates: 8/25/2020, 9/15/2020, and 9/18/2020
The ocean's tide links the generations of Hawaiians and Polynesians together, and Te Au Moana (the ocean's tide) is an extraordinary luau experience presenting those cultures in food, song, and dance. The Polynesians have great knowledge of the earth and ocean and its life giving elements. Their expert skill in fishing, gathering, gift giving, romance, and tapa making are brilliantly demonstrated and shared at Maui's newest luau experience.
Each guest receives either a fresh flower lei or a wooden fishhook necklace upon entrance to the luau grounds. As you stroll around you'll see Hawaiian games, flower crafting, artisans displaying works of tapa cloth and wood carving, and more. Prior to dinner you'll witness the Imu ceremony as the kalua pig is dug up from its underground oven. The menu for the evening's buffet typically includes seafood pasta, imu baked kalua pork, grilled teriyaki steaks, shoyu chicken, Hawaiian sweet potatoes, stir fry vegetables, poi, and a variety of salads (Kula greens, tropical fruit compote, and salads with an Asian flair). An open bar for beer, wine, Mai Tais, and other mixed drinks is included, and there is a desert bar as well.
Dine ... as the ocean sits peacefully before you. Dance ... under the Maui night sky. Discover ... the fascinating stories of the Pacific through song and dance presented by Tihati Productions, Hawaii's premier entertainment company.
Fresh flower lei or carved wooden fish hook necklace upon arrival
Ancient Hawaiian games and Polynesian artisans display their work
Witness an Imu ceremony (pig cooked in Hawaiian underground oven)
Traditional all-you-can-eat luau buffet
Open bar for beer, wine, Mai Tais, and other mixed drinks
Intimate setting with panormic ocean view
Polynesian Show called "Te Au Moana" (the ocean's tide)
Self parking is complimentary and valet is $35.
TAM / V
Cruise Ship Clients

NCL Pride of America cruise ship passengers who come into Kahului are not able to do this luau because it is not held on Sunday nights. This luau isn't practical for
Lahaina cruise ship passengers due to the distance from the harbor. There are other luau options that are much closer in West Maui.
---
Grand Wailea Luau - Honua'ula
Grand Wailea Luau - General Seating Rate
$130.00 per Adult, $85.00 per Child (6-12), Infants (5 & under) FREE (one free infant per paying adult. Additional infants are $27.50. (plus 4.167% Hawaii sales tax)
A premium seating option is available for $25 per adult, $15 per child, and $70 per infant (fee applies to infants who are otherwise free in general seating).
Monday, Tuesday, Thursday, Friday, and Saturday Evenings all year. Reserve NOW as premium seating often sells out 3 weeks or more in advance.
The Grand Wailea is thrilled to become the new home of this luau show, which is titled Honua'ula "Return to the Sacred Lands." The new show portrays Maui's discovery by ancient Polynesians and the stories and legends told by the peoples of Honua'ula, the area now known as Wailea and Makena. The newly-produced show blends traditional Hawaiian chanting, ancient hula, and some modern artistic interpretations of Polynesian culture into an enchanting evening of beauty. And yes, the Grand Wailea Luau still features the finest fire knife dancer in the state of Hawaii! Check out this larger photo of him in action doing the fire knife dance.
Premier Seating in the first two rows of tables is available for an upcharge. We highly recommend this option. You'll get a great view of the action, especially for the fire knife dance! Premium seating ALWAYS sells out in advance, so don't wait! Reserve your seats now!
If you request premium seating and it is not available, we will check other dates during your vacation and contact you to see if the date change is OK with you. If no other dates have premium seating available, we'll book you at regular seating for the date that you requested.
Complimentary Valet Parking at the Grand Wailea Resort is included with all reservations!
GWL / V
Cruise Ship Clients

NCL Pride of America cruise ship passengers are not in port on the right night of the week to attend this luau.
Lahaina cruise ship passengers should do a luau in Kaanapali because it is much closer to the ship.
ACTIVITY TIPS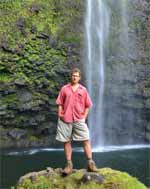 A luau is a must-do event for the first-time Hawaii visitor. Personally, I never get tired of good food, open bar, sunset views, and Hawaiian music and dance.
The most important thing about attending a luau is WHERE YOU SIT!!! You are much better off sitting up front at the second best luau than sitting in the back at the best luau. Read that again and let it sink in! If you are ordering a few weeks before your vacation, go with PREMIER reserved seating at one of the luaus that offer that option. It is really nice to be able to walk in the luau grounds a few minutes before the show starts knowing that you'll be able to sit in the first few rows of tables and not get stuck way in the back!
Both of the South Maui luaus featured on this page offer this premium seating upgrade, which we think is very much worth the price. BUT YOU HAVE TO RESERVE IT prior to your arrival, so make your reservation NOW!

Which luau to attend? Well, both are excellent choices. Both luau grounds are located right along the ocean and feature expansive ocean views. The slight advantage here would be the Te Au Moana luau at the Marriott because you face the ocean when you are looking at the stage. The Grand Wailea luau grounds faces the other way; when you face the stage you are looking at the mountains, and when you turn to look at the food line you are looking toward the ocean. This takes the focus off the oceanview a little.
If you blindfolded us and had us taste the food, we couldn't tell which one is which. This is a tie here.

As for the shows, both are well done. The slight edge would go to Te Au Moana at the Marriott for being a more traditional luau show featuring live musical accompaniment. The Grand Wailea's show is technically excellent, but they use more taped music for parts of the show, and while parts of the show feature traditional dancing, there are some modern elements thrown in (stylistically influenced maybe by Cirque du Soleil).