Kapalua Zipline Tours
SUPPORT LAHAINA:

We are donating 20% of our profit from ALL FUTURE 2023 MAUI TOUR BOOKINGS to Lahaina fire relief efforts!!!
---
This page presents the most extreme zipline tour in West Maui. If you are looking for more kid friendly zipline experience that takes children as young as five, be sure to see our Maui Zipline page. We also offer other zipline tours on Maui ... for the complete list see our All Maui Ziplines page.
---
These tours often sell out a week in advance! we recommend that you book this tour well in advance of your arrival on Maui!
High above Kapalua Resort on the slopes of the West Maui Mountains lies the "Mountain Outpost", the center of activity for the zipline tours and other exciting challenges offered by Kapalua Ziplines The Mountain Outpost features the second-longest zipline course in Hawaii with nearly two miles of parallel zipping action! The Mountain Outpost also features a 360' suspension bridge, the longest and highest in Hawaii.
The zip lines are the big attraction here, and their lines are LONG. The entire course measures out at 9190 feet of line ... times TWO! Each line is actually two lines running parallel to each other. These parallel lines offer partners the chance to zip at exactly the same time and yield great photo and video opportunities while soaring through the air! When you add it all up, Kapalua Adventures has over 18,000 feet of zip lines!
All adventures begin at the Kapalua Zipline location at 500 Office Road, which is next to the Honolua Store in the heart of Kapalua Resort. Here you will get set up with your gear and then participants ride a 4 wheel drive vehicle up to the Mountain Outpost and the start of your tour.
KAP / V
---
6 Line Zipline Tour
Kapalua 6 Zipline Tour Rate
$219.99 per Participant (plus 4.1667% Hawaii sales tax)
From December 19-30 a HOLIDAY RATE is in effect ... the tour cost is the same but a mandatory 15% gratuity is added to the tour price.
This tour offers the longest and fastest lines, and you'll soar down 8500 feet of zipline adventure! This tour is approximately 3 hours. Offered Monday through Friday at 7:30am, 8am, 11am, and 11:30am
Minimum age for these tours is 10. Minors age 10-17 must have an adult from your party who is also participating in the tour. Minimum weight is 60 pounds and maximum weight is 250 pounds. No one who is pregnant or who has neck or back injuries or cardiac conditions may participate. These tours are moderately strenuous; guests must be in good health and able to walk several hundred yards at a time (total hiking of about 3/4 of a mile) on uneven terrain while carrying 14 pounds worth of gear. All tours go out rain or shine; a minimum of 48 hours notice is required for cancellations or changes. All participants must sign a waiver of liability. Because of the remote location of the ziplines it is not possible for observers to go along on this tour. Everyone must zip.
---
Cruise Ship Clients

NCL cruise ship passengers are able do Kapalua Zipline in the afternoon of day one or the morning of day two in port. This is a little over an hour's drive from the harbor and we can arrange a rental car with shuttle pick-up at the harbor for approximately $40 per day. For rental cars with cruise ship shuttle pick-up see our rental car page.
Lahaina cruise ship passengers could do this tour while in port if they select a mid-day tour time. A cab ride of about 15 miutes would be required. Please note that Lahaina is a tender port ... the time spent waiting for a shuttle boat to take you to shore is a factor.
ACTIVITY TIPS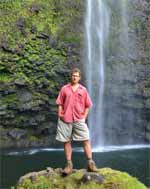 Kapalua Ziplines has an amazing course located high on the slopes of the West Maui Mountains above the Kapalua Resort. We've been sending clients to Kapalua for years, but in the spring of 2013 a management change left this course without an operator for the busy summer season. We are glad this course has reopened once again! It was such a shame to have such an excellent course just sitting idle!
Zip lines have undergone a similar progression over the last few years as roller coasters have done. They keep getting longer and higher and more technically advanced. This course was the longest in Hawai until the summer of 2009 when Flyin Hawaiian Zipline began operating tours in Central Maui. For more information on their programs visit our Flyin Hawaiian Zipline Page. Flyin Hawaiian's course is the longest in terms of the length of zipping that you do on the tour, but Kapalua's course is still the largest in the state in terms of the overall length of all their lines put together. All lines at Kapalua are tandem ... which basically means their course is the length of all their lines ... times two! Flyin' Hawaiian's course has the overall longest lines ... but all their lines are single.
Some zip line courses use a harness that tends to ... well ... get uncomfortable in certain places after you've been wearing it for a while (if you know what I mean). The harness that is used for these ziplines is adapted from the "seat" used by paragliders, and they are designed for comfort for the long haul. In other words, you won't be sore if you do this tour. That's a good thing!
The pulley that is used on Kapalua Ziplines is a heavy duty "trolley" that is matched to your weight and guests use the same trolley at each of the lines that they zip. This does require you to carry the trolley from line to line and the trolleys weigh a little over 12 pounds. Your guide will show you a trick to carrying the trolley on your back, and the weight is then similar to walking with a daypack filled with a water bottle, etc. on your back. If you can't handle carrying the trolley, zip line tours might not be the best activity for you anyway.