Haleakala Zipline Tours
SUPPORT LAHAINA:

We are donating 20% of our profit from ALL FUTURE 2023 MAUI TOUR BOOKINGS to Lahaina fire relief efforts!!!
---
Haleakala Zipline - Skyline Rate
$139.95 per Participant (plus 4.1667% Hawaii sales tax)
The Haleakala Zipline is Maui's first zipline tour ... as a matter of fact it was the first zipline tour to open in the USA! This course is located in a cloud forest nearly halfway to the top of a 10,000 foot volcano and just a few miles from the entrance of Haleakala National Park. Upcountry Maui is famous for its breathtaking sweeping ocean vistas and views of Molokini, Kahoolawe, Lanai, Molokai, and the West Maui Mountains. The course has been expanded over the years and now includes 5 picturesque zipline crossings and an Indiana Jones syled swinging bridge through a towering Eucalyptus forest. This is a great excursion to combine with a trip to the nearby national park as you drive right by the zipline checkin on "Crater Road" to get to the summit of the mountain.
The Haleakala Zipline is an hour's drive from the South Maui resorts in Kihei and Wailea, and about an hour and 45 minutes from West Maui. It is 15 miutes from the paniolo (cowboy) town of Makawao. You'll learn of Hawaii's environmental riches and Maui's ranching history from the guides as they lead you on this tour through the trees.
This is one of the few zipline tours that offer non-zipping observers the chance to walk along and take pictures and watch the action. The "hiking only" observer price is just $10 per person.
Minimum age for this tour is 8; anyone under 18 must have a legal guardian present at checkin. All participants must sign a waiver of liability prior to taking this tour. Ages 8 to 14 must have an adult in their party also participating in the tour. Minimum weight is 60 pounds and maximum weight is 260 pounds. No one who is pregnant may participate and anyone with a history of neck, back, or joint injuries or chronic heart problems should use their own discretion about their capabilities to safely participate in this tour. Guests who are zip lining must be in good enough health to hike for two miles. No smoking on this tour. All tours go out rain or shine; a minimum of 48 hours notice is required for cancellations or changes. No scuba diving within 24 hours of the start of this tour.
Hiking boots or athletic shoes are required (no Tevas, Keens, Crocs, etc). Shorts and a short-sleeved shirt are recommended. White clothing is NOT recommended.
SKY / V
If you're interested in adding more to your Haleakala zipline adventure, check out the Haleakala Sunrise and Zip! Begin your day by witnessing the sunrise from the 10,00 feet summit of Haleakala!
Cruise Ship Clients

NCL cruise ship passengers are able to do this tour on Sunday afternoon or Monday morning; drive time is about 45 minutes from the dock so we recommend a rental car which we can arrange for you.
Lahaina cruise ship passengers will likely pick a zipline course that is closer to the ship ... see our Kaanapali Zipline page, or Flyin' Hawaiian Zipline page.
ACTIVITY TIPS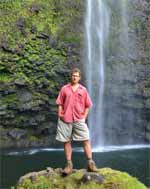 This tour is operated by the folks who started the zipline craze here in Hawaii with Maui's first course on the slopes of Haleakala. With it's unique location, many guests combine this activity with a visit to Haleakala National Park. Some people drive to the summit to watch a sunrise, and then do this tour on the way down at the 10:30am or 11:30am timeslots. Others will do this tour in the early afternoon, and then drive to the summit to watch a sunset.
The weather at this location is completely different than other places on the island. Because of its altitude, it is 10-15 degrees cooler than at sea level. Given its location on the west side of Haleakala, it is sheltered from the tradewinds and gets very little rainfall compared to windward sides of the island. If you are staying in a bed and breakfast somewhere in the rainforest and it is raining cats and dogs, don't make the mistake of assuming your tour is canceled. This course RARELY has to cancel for weather ... it is near a town called "Pukalani" which is Hawaiian for "hole in the sky." This location is typically crystal clear in the mornings, with a layer of clouds that form in the late morning and early afternoon. Afternoon tours sometimes are conducted in very mysterious foggy conditions in this "cloud forest", which just adds to the allure of this tour.
There are two different "technologies" used in zipline tours today. The classic zipline tour uses a climbing harness, carabiners, and a single attachment point to a small trolley which rides on the line. The newer and more heavy duty system that has popped up on many courses installed in the last few years uses a paragliding harness that feels like a built-in seat, with two attachment points (one on either side of you) to a much larger trolly. This type of equipment allows for longer lines and higher speeds (think lines that are a half mile long or more), but it feels more like a "ride" than a classic zipline. The Haleakala Zipline tour uses the classic climbing harness. Both types of ziplines are fun, but this classic type will make you feel more like an action hero in a "Die Hard" or "James Bond" sequel!
Please note the weight limits ... guests must weigh between 60 pounds and 260 pounds. If you weigh 280 and say on the reservation form that you weigh 255, you will regret that decision. All participants are weighed upon check in, and if you fall outside of the range you will not get to do the tour and you won't get a refund. The reason for the weight restrictions? Participants who weigh less than 60 pounds will consistently run out of speed near the end of a zipline and when they fail to reach the other side they will stop and then roll back to the middle of the line. This isn't dangerous at all (as a matter of fact it can be fun to get stuck in the middle), but it takes significant time for a guide to rig up and extract the stuck individual. One or two guests who consistently come up short would throw their tour schedule into disarray. Participants who weigh over 260 pounds would cause a different problem. This one IS safety related. It isn't that the equipment can't handle the weight ... it could handle the weight of a pregnant elephant. But heavy passengers can come in too fast exceeding the capacity of the braking system to safely slow them down. If someone in your party is right on the line at the weight limit, be honest about their weight when making a reservation and take appropriate measures (usually dieting). Then at least 48 hours before the tour stop by their location and get weighed. Anyone can be dropped from the reservation and get their money refunded if it is done at least 48 hours before the start of the tour. This gives them a chance to sell the space to someone else.
This course has 5 lines, and they have one tour option ... it is one of the most affordable zipline tours in Hawaii, and it's a great option for people who have never gone ziplining before. The first few lines are shorter and not real high off the ground, and this builds confidence for the longer and higher lines at the end of the tour.
There is a very modest amount of hiking on this tour, and the tour operator says you've got to be able to walk for a half a mile. You don't have to be a buffed athelete to do this tour, but you should be in reasonable physical condition and in overall good health. Oh, no upper arm and body strength is required. The harness and lanyard carry all your weight and you are securely clipped in. You wouldn't fall if you let go.