West Maui Luaus
---
To help you sort through the luau choices, we recommend that you attend a luau on the side of the island where you are staying. This page lists West Maui luaus which work best for clients in Lahaina, Kaanapali, Kahana, Napili, and Kapalua. If you are staying in Kihei, Wailea, Makena, Maalaea, Kahului, Paia, or Haiku visit our South Maui Luau page.
COVID-19 UPDATE: All Luaus will be making adjustments to the food service procedures as self-service buffets will not be possible for the near future. Most luaus will be doing either a "family style" serving of food at the table, or a modified buffet where staff plate the food based upon guest's preferences ... and each table will be exclusive to one party. Of the luaus on this page, only the ROYAL LAHAINA LUAU has currently resumed regular operations.
---
Myths of Maui Luau at Royal Lahaina Resort
Tuesday, Thursday, Friday from 1/1/2021 to 2/28/2021. Monday - Saturday starting 3/1/2021.
Myths of Maui Luau - General Admission Rate
$125.00 per Adult, $55.00 per Child (6-12), Infants (under 6) FREE (plus 4.167% Hawaii sales tax)
A premium seating option is available for $50 per seat. This fee applies to all seats, even to infants who are otherwise free in general admission.
Royal Lahaina Resort has resumed luau operations and we are accepting reservations for all future dates! They are serving food using a "modified / assisted" buffet with PPE-equipped staff plating food based upon each guest's preferences.
No Hawaiian vacation would be complete without attending a luau, a beachside feast and hula show, and the Myths of Maui Luau at Royal Lahaina Resort is an excellent choice. The main course is the kalua pig, cooked all day in the underground imu oven. The all you can eat buffet also includes smoked turkey, a delicious island-style mahi mahi, grilled steak, shoyu chicken, and a huge vegetable and salad bar. This luau is the most kid-friendly ... they even have a "keiki food bar" with hot dogs and chicken nuggets. The open bar keeps the Mai Tais flowing from the moment the gates open until the conclusion of the show, which traces the development of hula through the ages. The show concludes with a spectacular Samoan fire knife dance. This luau is also a great family value, as children under 12 are less than half price of adults, and toddlers / infants 5 and under are free.
The Royal Lahaina offers a "VIP seating option" up front and center. It also includes a flower lei for female, kukui lei for male, express entry line, and the first to buffet! The cost of this upgrade applies to all seats ... even to infants who are otherwise free at the luau. If you order VIP seating and it is not available on the date you've requested, we will check other nights during your vacation and contact you with availability. If there is no VIP seating available during your vacation, we will confirm you for regular seating on the night that you requested.
RLL / V
---
Sheraton Maui Nui Luau
The Sheraton Kaanapali is currently unailable and they have not yet announced a date to resume operations.
---
The Westin Wailele Polynesian Luau
The Westin Wailele Luau has currently paused operations due to Covid. We don't yet have a firm date they will resume operating.
---
Hyatt Luau - Drums of the Pacific
The Hyatt Drums of the Pacific Luau is currently paused due to Covid-19 and they have not yet announced a date for resuming operations.
ACTIVITY TIPS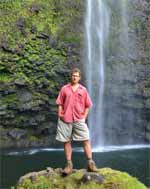 A luau is a must-do event for the first-time Hawaii visitor. Personally, I never get tired of good food, open bar, sunset views, and Hawaiian music and dance.
The most important thing about attending a luau is WHERE YOU SIT!!! You are much better off sitting up front at the second best luau than sitting in the back at the best luau. Read that again and let it sink in! If you are ordering a few weeks before your vacation, go with PREMIER reserved seating at one of the luaus that offer that option. It is really nice to be able to walk in the luau grounds a few minutes before the show starts knowing that you'll be able to sit in the first few rows of tables and not get stuck way in the back!
The Wailele Polynesian Luau at the Westin Maui Resort and Spa is another of our top luau choices. We REALLY like the show at this one, and the Westin does a great job with the food too. Their oceanside luau location is currently being renovated, so for most of 2019 the event is being held on the other side of the resort at their garden-view Valley Isle Terrace. This is a very small space; they are however offering a premium seating upgrade if you book early enough. (Premium seats are very limited). But if you don't book in advance, this is a great option because of its much smaller luau setting. If you want dinner and a luau show that is high quality without all the crowds, this is a good choice.
The Hyatt Regency Luau at Kaanapali is famous for offering an energetic show that guests appreciate. Down side here to this luau is that you can't really see the ocean much from any table. The luau ground is almost completely surrounded by wings of the hotel, and the view of the ocean is blocked by a row of shrubbery. It seems odd to be so close to the ocean that you can hear it, but to have your view intentionally blocked. We think it is to prevent people on the beach sidewalk from standing there and getting a free view of the show. On the upside it is now possible to get preferred seating, which will improve your luau experience over being in the general admission section.
The Myths of Maui Luau at Royal Lahaina Resort is a good choice (and affordable) for families (at least in general admission seating where "infants" 5 and under are completely free. It gets a little pricier for VIP seats with a bunch of kid. This luau has a little more of a "local flavor" and they've done quite a grand finale with their Samoan fire dance at the end of the show. In addition to the main double fire knife dancer they also have two other kane with single fire knifes and several wahine twirling fire poi balls. It's a great photo op at the end of your evening!