West Maui Luaus
---
To help you sort through the luau choices, we recommend that you attend a luau on the side of the island where you are staying. This page lists West Maui luaus which work best for clients in Lahaina, Kaanapali, Kahana, Napili, and Kapalua. If you are staying in Kihei, Wailea, Makena, Maalaea, Kahului, Paia, or Haiku visit our South Maui Luau page.
COVID-19 UPDATE: All Luaus will be making adjustments to the food service procedures as self-service buffets will not be possible for the near future. Most luaus will be doing either a "family style" serving of food at the table, or a modified buffet where staff plate the food based upon guest's preferences ... and each table will be exclusive to one party. Of the luaus on this page, the ROYAL LAHAINA LUAU and Westin WAILELE LUAU have currently resumed regular operations and the Sheraton Kaanapali Luau is operating once a week on Wednesday evenings. Due to extremely limited capacity due to social distancing, LUAU SEATS ARE SELLING OUT UP TO 3 WEEKS IN ADVANCE ON MAUI. Make reservations NOW for dates in June through August! See RESERVE NOW section for first available date at each luau.
---
Myths of Maui Luau at Royal Lahaina Resort
Monday - Friday
Myths of Maui Luau - General Admission Rate
$135.00 per Adult, $65.00 per Child (6-12), Infants (under 6) FREE (plus 4.167% Hawaii sales tax)
A premium seating option is available for $50 per seat. This fee applies to all seats, even to infants who are otherwise free in general admission.
Royal Lahaina Resort has resumed luau operations and we are accepting reservations for all future dates! They are serving food using a "modified / assisted" buffet with PPE-equipped staff plating food based upon each guest's preferences.
No Hawaiian vacation would be complete without attending a luau, a beachside feast and hula show, and the Myths of Maui Luau at Royal Lahaina Resort is an excellent choice. The main course is the kalua pig, cooked all day in the underground imu oven. The all you can eat buffet also includes smoked turkey, a delicious island-style mahi mahi, grilled steak, shoyu chicken, and a huge vegetable and salad bar. This luau is the most kid-friendly ... they even have a "keiki food bar" with hot dogs and chicken nuggets. The open bar keeps the Mai Tais flowing from the moment the gates open until the conclusion of the show, which traces the development of hula through the ages. The show concludes with a spectacular Samoan fire knife dance. This luau is also a great family value, as children under 12 are less than half price of adults, and toddlers / infants 5 and under are free.
The Royal Lahaina offers a "VIP seating option" up front and center. It also includes a flower lei for female, kukui lei for male, express entry line, and the first to buffet! The cost of this upgrade applies to all seats ... even to infants who are otherwise free at the luau. If you order VIP seating and it is not available on the date you've requested, we will check other nights during your vacation and contact you with availability. If there is no VIP seating available during your vacation, we will confirm you for regular seating on the night that you requested.
RLL / V
---
The Westin Wailele Polynesian Luau
The Westin Wailele Luau is operating on Tuesday Wednesday and Thursday with Friday added during summer months
Westin Wailele Luau - Ohana Seating Rate
$175.00 per Adult, $80.00 per Child (4-12), Infants (3 and under) FREE (plus 4.167% Hawaii sales tax)
Ohana seating is a private table for just your group. Larger parties may need more than one table, but will be placed in close proximity to each other.
Three-time Merrie Monarch winner Kamaka Kukowa with show choreographer Reri Septirno have redesigned Wailele Luau at The Westin Maui Resort & Spa. Currently held at the intimate garden setting at the resort's Valley Isle Terrace, the dinner show utilizes the elements of earth, fire and water to reflect the rich Polynesian culture through superb performances with vibrant costumes.
At the Wailele Luau guests embark on an exciting journey to the Polynesian Islands where dance was considered not just as a form of entertainment, but as means of telling stories. Highlights include the story of Pele, Goddess of Fire and a new performance dedicated to Wailele (meaning waterfalls). The show also features dances from Hawaii, Fiji, Tahiti, New Zealand and Samoa. The breathtaking finale is none other than Maui's only extreme fire-knife dance performance led by fire-knife dance champion Martin Tevaga. This three to four man fire spectacle is the most impressive of any Maui luau.
Enjoy a superb The two-and-a-half-hour show includes a free flow of drinks all evening with Mai Tai using Maui Pineapple Rum, signature cocktails, local beers, sodas and fruit juices. Dinner is served at your table "family style" with courses spread throughout the show. Click here to view the Wailele Luau Menu.
WPL / V
Cruise Ship Clients

NCL cruise ship passengers in Kahului are able to do the Westin Luau if they are here during the time of year that this luau is offered on Sunday evenings. A drive of about an hour is required and we can assist you with a rental car reservation.
Lahaina cruise ship passengers can do this luau as long as you are here on a night that it operates and your ship is running tenders until at least 10pm. A cab ride of about 10 minutes is required.
---
Sheraton Maui Nui Luau
The Sheraton Kaanapali Luau is operating once a week on Wednesday evenings. All guests will be seated at their own private table for just their party and the dinner will be served family style at your table.
Kaanapali Sunset Luau - Private Table Rate
$158.40 per Adults, $100.80 per Children (6-12), Infants (under 6) FREE (plus 4.167% Hawaii sales tax)
Schedule: Wedensday Evenings
At the Sheraton Kaanapali Maui Nui Luau, discover the remarkable stories, history, and culture of the Valley Isle and Kaanapali through the songs and dances of Maui and the Pacific…..Discover Maui Nui Luau.
Situated beachfront on award-winning Kaanapali Beach the Maui Nui Luau shares the music, dance and history of the islands right here at the foot of the famous cliff diving point, Black Rock. World renowned Polynesian entertainment producer Tihati Productions presents the best in Hawaiian & Polynesian song and dance, including the spectacular fire knife dance.
The salad menu includes peppered pipikaula beef and chilled ramen noodle salad, Maui Gold Pineapple dusted with li hing mui powder, and kim chee spiced soy beans. Poi with Molokai sweet potato and coconut milk is a local accompaniment. The main entree menu includes vegetable curry with assorted seasonal vegetables & mild Japanese golden curry sauce, kiawe wood smoked huli huli chicken with grilled pineapple & sweet soy glaze, mini beef hamburger steak with shiitake mushroom gravy, and coconut crusted mahi-mahi with lime butter sauce & mango salsa. They also offer a "bread or bowl" option, which is a fun and creative way for all to enjoy some of the luau food. You can build your own sandwich or slider with taro rolls, sweet bread rolls, mini hamburgers, kalua pork, coconut crusted mahi-mahi, shredded cheddar cheese, BBQ sauce, and teriyaki Sauce. Or build your own bowl with steamed white rice, ahi poke, Waipoli greens, kalua pork, coconut crusted mahi-mahi, crispy garlic, furikake, bubu arare, spicy mayo, wasabi mayo, and ponzu. Don't forget about dessert! Indulge in lilikoi cheese cake and Pina Colada upside down cake.
The Sheraton Maui Nui Luau offers the best oceanfront view of any of the Kaanapali luaus ... location, location, location!
Social distancing measures are in place at this luau ... all guests will be seated at private tables for just their party. Events like the imu ceremony and demonstrations of Hawaiian crafts will happen on the stage with guests remaining at their tables. Luau menu is subject to change during this time, but a generous Hawaiian styled meal will be served family style at your table.
KSL / V
ACTIVITY TIPS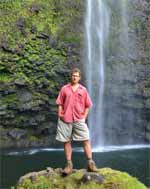 A luau is a must-do event for the first-time Hawaii visitor. Personally, I never get tired of good food, open bar, sunset views, and Hawaiian music and dance.
The most important thing about attending a luau is WHERE YOU SIT!!! You are much better off sitting up front at the second best luau than sitting in the back at the best luau. Read that again and let it sink in! If you are ordering a few weeks before your vacation, go with PREMIER reserved seating at one of the luaus that offer that option. It is really nice to be able to walk in the luau grounds a few minutes before the show starts knowing that you'll be able to sit in the first few rows of tables and not get stuck way in the back!
The Wailele Polynesian Luau at the Westin Maui Resort and Spa is another of our top luau choices. We REALLY like the show at this one, and the Westin does a great job with the food too. Their oceanside luau location is currently being renovated, so for most of 2019 the event is being held on the other side of the resort at their garden-view Valley Isle Terrace. This is a very small space; they are however offering a premium seating upgrade if you book early enough. (Premium seats are very limited). But if you don't book in advance, this is a great option because of its much smaller luau setting. If you want dinner and a luau show that is high quality without all the crowds, this is a good choice.
The Hyatt Regency Luau at Kaanapali is famous for offering an energetic show that guests appreciate. Down side here to this luau is that you can't really see the ocean much from any table. The luau ground is almost completely surrounded by wings of the hotel, and the view of the ocean is blocked by a row of shrubbery. It seems odd to be so close to the ocean that you can hear it, but to have your view intentionally blocked. We think it is to prevent people on the beach sidewalk from standing there and getting a free view of the show. On the upside it is now possible to get preferred seating, which will improve your luau experience over being in the general admission section.
The Myths of Maui Luau at Royal Lahaina Resort is a good choice (and affordable) for families (at least in general admission seating where "infants" 5 and under are completely free. It gets a little pricier for VIP seats with a bunch of kid. This luau has a little more of a "local flavor" and they've done quite a grand finale with their Samoan fire dance at the end of the show. In addition to the main double fire knife dancer they also have two other kane with single fire knifes and several wahine twirling fire poi balls. It's a great photo op at the end of your evening!