Snuba Diving with Aqua Adventures
SUPPORT LAHAINA:

We are donating 20% of our profit from ALL FUTURE 2023 MAUI TOUR BOOKINGS to Lahaina fire relief efforts!!!
---
Minimum Notice for Cancellation / Changes is 72 hours prior to checkin for Aqua Adventures tours.
Aqua Adventures AM Snorkel / Snuba Rate
$178.46 per Adult, $157.02 per Child (3-12), $157.02 per Infants (2 and under), $75.00 per SNUBA divers (Hawaii sales tax included)
The rate for dates in 2022 is $135 per adult, $83 per child, and $66 for the snuba option.
Take your snorkeling experience to a whole new level of underwater thrills with a SNUBA DIVE on your next snorkel trip. SNUBA is much like scuba diving ... you breathe compressed air through a regulator and can stay underwater for up to 30 minutes. But the snuba experience is a lot easier than a first-time introductory scuba dive because you don't have to wear all that bulky gear and there is very little that you need to learn. Basic instruction onboard the boat only takes a few minutes. The tanks don't go on your back ... instead they float on a raft that stays at the surface of the water and a hose comes down to your regulator. As you move around underwater the raft follows you around effortlessly, leaving you free to explore and focus on the experience, rather than struggling with the gear. Your dive instructor will lead you on a guided tour of the underwater world.
There are other boats that offer snuba as an on-board option, but no one does snuba better than Aqua Adventures. Their vessel is specifically designed for snuba diving with easy access in and out of the water. Their snuba instructors are the best in the industry. And with Aqua Adventures, you can pre-reserve your snuba dive (as opposed to other boats where you just sign up on board).
While SNUBA is Aqua Adventures' specialty, this boat is great for those who are only going to snorkel too. It doesn't matter if your party is ALL snorkelers, ALL snuba divers, or some of each. This is a 4.5 hour tour from 7:30am to 12 Noon ... those doing a snuba dive will have 30 minutes of underwater SNUBA time and another 30 minutes or so of snorkeling at one spot, and will have over an hour to snorkel at the other spot. Snorkelers who aren't SNUBA diving will have about 3 hours of water time split between the two dive locations.
Aqua Adventures offers a two location snorkel tour (normally Molokini for the first stop and Turtle Arches for the second) with a 7am check in daily at Maalaea Harbor slip #51. This is the boat harbor in Central Maui just behind the Maui Ocean Center Aquarium along Highway 30. Some Molokini boats hold upwards to 140 people ... no such crowds on board Aqua Adventures ... while the vessel can hold 49, they limit the trip to just 36 guests per day. The boat is FAST too! Powered by twin 350HP motors, this vessel cruises at 22 knots which means you'll be waving goodbye to other boats as you pass them on the way to Molokini crater.
The snorkeler rate includes continental breakfast on the way to Molokini, snorkel gear and instruction, two snorkel locations, a really nice"build your own sandwich" deli lunch after you are done in the water, and an open bar for beer, Mai Tais, rum and cokes, soda and juice.
Aqua Adventures often has an on-board videographer who will produce a DVD of your trip which is available for purchase. Wet suits are available to rent onboard for a very modest fee of $5. Underwater cameras, T shirts, and souvenir boarding photos are also available for purchase.
While children of all ages may go along to snorkel, the minimum age for snuba is 8. All snuba divers must fill out a health screening questionaire before participation. Occassionally someone will be disqualified from participating in snuba and in those cases we will refund the snuba dive portion of the ticket cost and only charge the basic snorkeler rate.
AQUA / V
Cruise Ship Clients

NCL cruise ship passengers in Kahului are able to do Aqua Adventures on their second day in port. This is a 12-15 minute cab ride to Maalaea Harbor, or we can arrange a rental car with shuttle pick-up at the harbor; rates vary throughout the year but start around $40 per day in low season; see our rental car page for more information.
Lahaina cruise ship passengers can do Aqua Adventures only on day 2 (assuming your ship is spending the previous night in Lahaina). This would require a 20-25 minute cab ride, or we can arrange a rental car.
ACTIVITY TIPS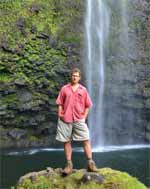 Snuba is without a doubt the easiest way to enjoy the experience of scuba diving. For most people, this is a way better option than strapping a 50 pound tank on your back and rolling over the edge of a boat! Since the tank floats on a raft at the surface, you don't need to wear all that gear. You can hold onto the raft while you take your first few underwater breaths. When you are comfortable breathing underwater, you let go and begin your descent into another world.
Aqua Adventures is a family owned and operated business, and they are committed to your safety and enjoyment of Maui's ocean waters. Their staff goes out of their way to make sure you have the time of your life while on board. I've been on boats where you can tell the crew is really not that happy about their job. These guys are just the opposite. They LOVE their jobs, they LOVE the ocean, and they LOVE fulfilling your aquatic adventures.
Most Molokini boats are notoriously large ... this one isn't. It's a 50 foot custom dive boat, which makes it large enough to handle Maui's sometimes windy conditions with grace. The maximum group size of 36 guarantees that you'll have lots of room to get comfortable on board.
One other thing worth mentioning about this trip ... their deli lunch is the best! They have a selection of deli meats (roast beef, ham, and turkey) that are SMOKED by Beach Bums BBQ ... an excellent restaurant located at Maalaea Harbor.