Haleakala Sunrise Tours
---
The 10,000 foot summit of Haleakala is a popular destination to go watch a sunrise, but that means a long drive up a volcano in the middle of the night! Why not go with a professional driver/guide? Everyone in your party can enjoy the same great sightseeing experience with one of these excellent tours!
Note: Haleakala will be closed to commercial traffic for Hawaiian cultural practices 6/21, 7/18, 10/3, 12/21, and 12/31.
---
Haleakala Sunrise Tour with Skyline Hawaii
Skyline Hawaii is operating now ... reserve your date today as holiday dates are filling up quickly! During the fall of 2020 until 12/14/2020 all Skyline Hawaii Sunrise tours will be operated as "private only" with a minimum of 6 guests. If there are less than 6 people in your party, you will be charged for 6 seats for a private tour.
Skyline Haleakala Sunrise Tour Rate
$169.95 per Adult, $169.95 per Child (14 and under) (plus 4.1667% Hawaii sales tax)
Journey in the early morning hours to the summit of Haleakala known in Hawaiian as "wao akua", or "realm of the gods." Be there when Haleakala National Park awakens with the rising sun at the summit crater overlook. Edge-of-the-world views open up in all directions while the early sunlight casts hues of natural light onto Haleakala's crater floor. This is a chilly but memorable (almost religious) experience!
Resort pickup in their comfortable fleet of tour vehicles with large viewing windows, comfortable seating, and climate-controlled interior. Having a driver / guide will not only educate you about this fragile and culturally-significant environment ... it will provide safety for you so you don't have to negotiate the steep, narrow, winding road to the summit in your rental car IN THE DARK.
When you arrive at the summit it will still be dark enough to see a sky full of stars. The predawn colors will precede the sun's arrival. As the sun rises it fills the crater with light and reveals Haleakala's interesting lunar (or Mars-like) landscape.
Following your sunrise experience you'll enjoy breakfast with a view at the historic Kula Lodge in upcountry Maui. Your sit-down breakfast will include vegetarian, gluten-free, and diet-friendly lite options.
While times vary slightly with the seasons, resort pickup is around 2:00am to 3:00am depending on your location, with Kahului cruise ship passengers picked up around 3:30am. Sunrise viewing is from 6:00am to 7:00am. Breakfast is around 9:00am, with return to your accommodations around 11:00am to 12 noon.
SKYH7 / V
---
Haleakala Sunrise Tour with Valley Isle Excursions
Valley Isle Excursions Haleakala Sunrise Tours will resume in 2021 and we are accepting reservations for dates on or after 1/1/2021. Tours will be operated on Sunday, Monday, Wednesday, and Friday ... until visitor numbers return to normal and they will then resume a 7-day-a-week schedule.
Valley Isle Haleakala Sunrise Tour Rate
List price: $179.99 SAVE $10.00 per adult!!!Our Rate: $169.99 per Adult, $149.99 per Child (12 and under), $159.99 per Seniors (over 60) (plus 4.1667% Hawaii sales tax)
Start your day with an unforgettable Haleakalā Sunrise Tour! Enjoy the ride in a custom passenger cruiser featuring elevated captain seats and extra large viewing windows so you can enjoy a safe, comfortable journey up - and down the mountain without missing a thing. Stunning photo opportunities, such as, an unforgettable sunrise and plenty of rich cultural, religious and biological points of interest (flora and fauna). Visitors have been ascending Haleakalā for nearly 150 years to experience the legendary feats of the demi-god Maui. The summit area is considered sacred by Hawaiians, and is known as wao akua, or "realm of the gods."
After your hotel or condo pickup, the first stop is in Central Maui for a sit-down continental breakfast. Enjoy coffee service as well as wonderful muffins & pastries, fresh fruit and yogurt. From there, you'll begin the 30 mile drive up the mountain, arriving at the summit early to take in the spectacular pre-dawn show of the cosmos, before the majestic sunrise. As you're admiring the pre-dawn sky, the expert guides "talk story", teaching you about celestial navigation and preparing you for a simply sublime sunrise experience. The guides weave through many ancient stories, sharing historical, cultural, and current information, in a fun and entertaining way. Peeking through the billowy clouds, the first glimmer of a new day subtly begins to glow with all the colors of the rainbow. The sun's rays shine in a dance of light that overpowers the night. It is truly a memory to cherish. Valley Isle Excursions gets you to the summit before others so you can choose a choice viewing spot. They provide versatile "Hooded Volcano Blankets" to help you stay warm during the early morning vigil.
Other stops include, but are not limited to: Haleakalā Headquarters Visitor Center, Haleakalā Summit Area and Visitor Center, Kalahaku Overlook & Haleakalā Ranch Overlooks. After sunrise, you'll venture back down the mountain to enjoy a delicious, and authentic, sit down all-you-can-eat hot buffet breakfast, which includes vegetarian, gluten-free & vegan options.
Complimentary hotel pickup and return is included. South & West Side Hotel/Condo pickup is between 1:15 am and 3:30 am (depending on time of year), and returns are between 10am and 11:30am. Entrance fees into Haleakalā National Park are also included. Enjoy the continental breakfast before dawn and later warm up with coffee, tea and hot chocolate at the summit. After the sunrise, you're off to a hot, all-you-can-eat buffet breakfast that includes french toast, scrambled eggs, hash browns, Portuguese sausage, hot oatmeal, pork sausage patties, fruit, yogurt, almond milk, soy milk, and soda, (in addition to the coffee, tea, hot cocoa, juice and water which will be available as well). Meals are served in a restaurant reserved exclusively for Valley Isle Excursionʻs guests.
All guides/drivers are professionally trained, certified, extremely knowledgeable, safe, and fun. They are NAI (National Association of Interpretation) trained and certified, which means they take their jobs seriously. The custom passenger cruisers boast giant panoramic viewing windows, elevated seats, air conditioned, reclining captain's chairs, over head storage, and extra leg room. The high back leather seats have headrests, extra thick padding, 3 point seat belts, armrests, and USB charging ports. The interpretive on-board experience features a mobile APP and videos which the professional guides use to provide a high quality tour. In addition to English, this tour is offered in many other languages. The ADA Compatible options include wheelchair lifts and disabled options. (Must be reserved at least 4 days in advance). On board it's safety first with an oxygen generator, AED, and all guides are first aid and CPR certified.
Group sizes are limited to 12 guests per guide and there are 2 guides on our 24 passenger vehicles to increase your comfort, safety, and experience. (They ensure there are clean and well-maintained bathroom stops).
Valley Isle Excursions uses eco-friendly methods wherever possible including: environmentally friendly cleaning supplies, recycling / reusing bottles, cutlery and plates, customizing vehicles to achieve optimum efficiency, training their drivers how to be extra fuel efficient, and maintaining high vehicle maintenance & baseyard standards. Winning the HEA (Hawaiian Ecotourism Association) Sustainable Tour Operator of the Year award in 2016 and the Hawaii Green Business Award in 2016 & 2018 means Valley Isle Excursions is proud to be a leader in the industry.
Explore the stories and sights of the enchanted wao akua, "realm of the gods", and the skies above. As you immerse yourself in the sacredness of Haleakala summit at sunrise, the landscape will inspire you. The experience is enchanting, exhilarating... and absolutely unforgettable.
VIE3 / V
---
Haleakala Sunrise and Zip
The Haleakala Sunrise and Zip tour will resume on December 22, 2020 and we are accepting reservations for tours on or after that date.
Haleakala Sunrise and Zip Rate
$239.95 per Participant (plus 4.1667% Hawaii sales tax)
The Haleakala Sunrise and Zip tour is offered daily. You will be picked up at your hotel (transportation is included) between 2am and 3am (times change seasonally depending on the sunrise). The tour also includes continental breakfast before sunrise, park entrance fees, and either breakfast or lunch wrap depending on the time of year.
Experience a spectacular sunrise from the 10,000 ft summit of Haleakala National Park. Next you will be taken to the 5-line Haleakala zipline tour, which is located just outside the national park on the slopes of Haleakala. It features an Maui's only pendulum line, over 90 foot drops, Indiana Jones swinging bridge, and canyons, and a forest of eucalyptus trees.
Each zipline has a minimum breaking strength of over 26,000 pounds, and it is tested to hold at least 5,000 pounds,. The guides are carefully trained, and they inspect daily all ziplines, platforms, trails, and equipment on each of the courses. Experience the beauty and adventure of untouched Hawaiian nature, while learning about the rich history of the island.
Minimum age for this tour is 8; anyone under 18 must have a legal guardian present at checkin. All participants must sign a waiver of liability prior to taking this tour. Minimum weight is 60 pounds and maximum weight is 260 pounds. No one who is pregnant may participate and anyone with a history of neck, back, or joint injuries or chronic heart problems should use their own discretion about their capabilities to safely participate in this tour. Guests must be in good enough health to hike hike a 1/2 mile at elevation and over uneven surfaces. No smoking on this tour. All tours go out rain or shine; a minimum of 48 hours notice is required for cancellations or changes. No scuba diving within 24 hours of the start of this tour.
Hiking boots or athletic shoes are required (no Tevas, Keens, Crocs, 5 finger shoes etc). Shorts and a short-sleeved shirt are recommended. White clothing is NOT recommended. They also suggest brining a light jacket, because it can get chilly at 4,200 foot elevation. You can bring your backpack along, and they will lock it up for you while you zip. Bring sunscreen, and they also recommend wearing clothing that helps block the sun. Glasses and sunglasses may be worn with a strap. Bring a camera at your own risk, and they recommend you securely strap it to yourself.
Tour duration is approximately 9-10 hours.
SKYH3 / V
Cruise Ship Clients

Pride of America cruise ship passengers are able to do this tour on Monday morning, and they will pick you up at the dock.
Lahaina cruise ship passengers will likely pick a zipline course that is closer to the ship ... see our Kaanapali Zipline page, or Flyin' Hawaiian Zipline page.
---
ACTIVITY TIPS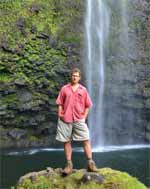 Starting in February of 2017, Haleakala National Park implemented a reservation system for sunrise viewing from the summit of the crater. Without advanced reservations, visitors are not permitted to drive rental cars into the National Park from 3am to 7am. If you want to see a sunrise from the top of Haleakala and you didn't secure a permit weeks before your Maui arrival, one of these tours is your only way to get inside the park in the pre-dawn hours.
The road to the summit of Haleakala is not as narrow as the road to Hana, but there are hairpin turns ... LOTS of them. And driving it in the middle of the night in the dark can be a challenge. Actually, if you aren't properly rested, driving can be dangerous. Consider one of these tours ... you can rest your eyes on the way up instead of having to prop them open with toothpicks and getting white knuckles from holding the steering wheel too tightly.
Haleakala is famous for its spectacular sunrises and it has a well-deserved reputation. We wish every morning at the summit could be equally beautiful, but obviously this just isn't possible. There is no way to predict which mornings are going to be pretty based upon weather forecasts. Occasionally there are days when cancellation is necessary due to a serious storm, but ordinary summit weather is notoriously unpredictable and changes quickly. The tour operators provide the same level of service every day, and incur the same expenses in operating the tour regardless of the quality of the sunrise view on any given day. All they can do is take people on their tours every day and watch what happens as the sun rises.