Hana Cave Quest
---
$354.44 per Passenger (Hawaii sales tax included)
The Road to Hana is an amazing drive filled with hairpin turns and one lane bridges. To ensure that everyone enjoys the ride, go with a professional driver/guide. Then add to your Hana adventure with the Ka'eleku Cavern.
Your day starts with a complimentary pick up between 7:00 and 7:30am in a 6 to 8 guest Luxury Limo-van. Tour returns between 4:30pm and 5pm. The beautiful Road to Hana will give you many photo opportunities along this spectacular sea coast drive. Some of the many sigts you'll experience is Ke'anae, a quaint Hawaiian village with peaceful taro fields and Waikani Falls, glistening with fresh mountain rain-water. Learn about the native Hawaiian people, the culture and the land.
You will discover Maui's own "Wonder of the World", the incredible Ka'eleku Cavern. This cave was created by Pele, the Goddess of Fire. This enormous subterranean lava tube resembles a chocolate-colored Lava Cathedral Cave. You will walk beneath the dense tropical rain forest of Hana through Pele's famous undground passage. You will learn and discover elephant's foot stalactites, mounds of chocolate colored lava drops and soufflé-like lava swirls formed over 30,000 years ago. After the 1 hour hike, enjoy a delicious Pacific Rim Cuisine lunch on the serene grounds, and then you will head back to your accommodations.
If conditions permit to swim in a fresh water pool under a cascading waterfall or an ocean swim at a black sand beach, so bring bathing suits and towels. The tour includes ice cold soft drinks, a light morning snack, and a Pacific Rim lunch.
MINIMUM NOTICE FOR CANCELLATION OR CHANGES:This tour operator has one of the more elaborate cancellation policies that is based upon the size of your group. For parties of 1-2 people, minimum notice to cancel or change is 7am 2 days prior to tour date. Parties of 3-6 is 7am 3 days prior to tour date. Parties of 7-8 is 7am 4 days prior to the tour date. Parties of 8 or more is 7am 7 days prior to tour date. In addition, HOLIDAY dates have special cancellation … From December 17th – January 3rd, cancellations must be made a full 7 days prior to the tour date for all parties regardless of size.

TOUR RESTRICTIONS: All passengers must be fully ambulatory. No wheelchairs, strollers, electric scooters, or oxygen canisters permitted. All participants must wear closed toed shoes. MINIMUM AGE for this tour is 4.
SCHEDULE: This tour is operated Tuesday through Saturday
If you are interested in a private guide for just your small group of 10 or less, please visit our
Hana Private Tours
page, and for a air-and-ground tour of the Road to Hana see our
Hana Heli-van Tour
on the Helicopters page.
TT4 / V
Cruise Ship Clients

NCL cruise ship passengers are not able do the Hana Cave Quest as this tour does not operate on Sundays or Mondays
Unfortunately Lahaina cruise ship passengers are not able to do this tour either on day one (you arrive too late) or day two (your cruise ship departs too early)
ACTIVITY TIPS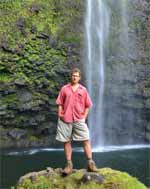 Van tours offer a nice advantage over driving around on your own. Many of the most scenic roads on Maui are rather narrow and winding with bridges that are only one lane wide. An experienced tour guide / driver who knows the road will ensure that everyone in your party gets to enjoy the view. Mini-coaches that these companies use sit higher than a regular rental car and offer superior visibility with oversized windows ... you'll see things looking over the top of the guardrail that you would miss if you were in a rental car. These vehicles are superior to a tour done in a bus (for obvious reasons) or a standard 14 passenger van that is difficult to crawl in and out of. Another advantage of the smaller vehicle with great visibility; don't be surprised if your guide knows your name by the middle of the tour.
If you love to drive on curvy winding one-lane roads that you've never seen before, you might enjoy the drive to Hana! Go for it! Many people HATE the drive to Hana, but love the ride there.
More activity tips on Hana Cave Quest coming soon!