Maui Rental Cars
SUPPORT LAHAINA:

We are donating 20% of our profit from ALL FUTURE 2023 MAUI TOUR BOOKINGS to Lahaina fire relief efforts!!!
---
COVID-19 UPDATE:Due to Covid-19 and its effects on the travel industry, we are currently unable to process rental car reservations. We hope to begin offering them in the fall of 2021.
Our agency offers excellent rates on Maui vehicle rentals with Avis Rental Car and Dollar Rental Car. There are two locations on the island. The vast majority of our clients will rent from the Kahului Airport location (OGG) as this is the airport where mainland and 98% of interisland flights arrive. This airport is very close to the Kahului cruise ship dock where the NCL Pride of America arrives, and shuttle service is provided (see cruise ship information below). The other location is at Lahaina/Kaanapali in West Maui, and this location would be chosen by cruise ship clients who are arriving at the Lahaina dock or by the handful of people who fly into the tiny Kapalua Airport (JHM). While this page is intended to provide information on Maui rental cars, you may also use the form to the right to reserve a rental car on Oahu, Kauai, or the Big Island as well.
NOTE: Your email confirmation will clarify whether your rental agency is Avis or Dollar.
---
LOW SEASON rates are in effect from Jan4-Feb3, Feb22-Mar11, Mar29-31, Apr6-May20, May24-Jun30, Aug9-Oct7, Oct11-Nov24, Nov27-Dec19.
HIGH SEASON rates are in effect from Feb4-21, Mar12-28, Jul5-Aug8.
HOLIDAY rates are in effect from Apr5-11, May21-23, Jul1-4, Oct3-11, Nov25-26.
CHRISTMAS rates are in effect from Dec20-Jan3.
Prices listed below are base rates which do not include rental car tax and facility surcharges.
---
Compact

Ford Focus or similar
Seats 4; holds 1 large & 2 small suitcases
Honolulu Airport
Maui, Kauai, Big Island
Daily
Weekly
Daily
Weekly
42.00
294.00
Low Season
52.00
338.00
57.00
342.00
High Season
67.00
402.00
72.00
432.00
Holiday
82.00
492.00
104.00
572.00
Christmas
104.00
572.00
---
Intermediate:

Pontiac G6 or similar
Seats 5; holds 1 large & 2 small suitcases
Honolulu Airport
Maui, Kauai, Big Island
Daily
Weekly
Daily
Weekly
45.00
315.00
Low Season
57.00
370.50
60.00
360.00
High Season
72.00
432.00
75.00
450.00
Holiday
87.00
522.00
109.00
599.50
Christmas
109.00
599.50
---
Full-sized:

Chevrolet Impala or similar
Seats 5; holds 2 large & 2 small suitcases
Honolulu Airport
Maui, Kauai, Big Island
Daily
Weekly
Daily
Weekly
52.00
364.00
Low Season
65.00
422.50
67.00
402.00
High Season
75.00
487.50
82.00
492.00
Holiday
85.00
595.00
119.00
654.50
Christmas
129.00
903.00
---
Convertible:

Chrysler Sebring or similar
Seats 4; holds 1 large & 1 small suitcases
Honolulu Airport
Maui, Kauai, Big Island
Daily
Weekly
Daily
Weekly
85.00
595.00
Low Season
85.00
595.00
100.00
600.00
High Season
100.00
600.00
115.00
690.00
Holiday
115.00
690.00
179.00
984.50
Christmas
179.00
984.50
---
Luxury:

Cadillac DTS or similar
Seats 5; holds 3 large & 2 small suitcases
Honolulu Airport
Maui, Kauai, Big Island
Daily
Weekly
Daily
Weekly
59.00
413.00
Low Season
75.00
487.50
74.00
444.00
High Season
90.00
540.00
89.00
534.00
Holiday
105.00
630.00
169.00
929.50
Christmas
169.00
929.50
---
Minivan:

Chevrolet Uplander or similar
Seats 7; holds 5+ large suitcases
Honolulu Airport
Maui, Kauai, Big Island
Daily
Weekly
Daily
Weekly
119.00
833.00
Low Season
129.00
903.00
134.00
804.00
High Season
144.00
864.00
149.00
894.00
Holiday
159.00
954.00
239.00
1314.50
Christmas
239.00
1314.50
---
Our recommendations on car sizes; parties of 2 adults and 2 children can comfortably be accommodated in one of the compacts. Midsized is fine for 4 adults. Parties of 5 should request a full-sized car. Minivans will hold a maximum of 7. Convertibles will only hold 4 people.
Some fine print ... which we will leave regular size type so you can really read it ...
While the cost of the rental is paid directly to the rental car company, our office requires a credit card on file to guarantee the reservation.
The driver must be 25 years old or older with a major credit card in his/her name. Drivers 21-25 may also rent, but will need to pay an underage driver charge of $27 per day.
Daily rates are for a 24 hour rental period and includes unlimited mileage.
You are responsible for whatever liability and vehicle damage insurance you decide to take out on the vehicle, as well as the gasoline consumption, and any GPS units or car seats that you rent.
48 hours notice required for changes / cancellations of existing reservation
For clients who have already arranged airfare to another island for a day or two or three, this is a quick and easy way to arrange transportation. If you are thinking of flying to another island (say from Kauai to Oahu to see Pearl Harbor) and you don't have airfare arranged yet, you should check out our fly-drive page for packages that include both airfare and rental car.
Cruise Ship Clients

If you are a cruise ship passenger arriving at the Kahului dock (the NCL Pride of America arrives here once a week), you will request the rental car from the Kahului Airport location. The airport is very close to the dock. A phone number to request a shuttle will be in your email confirmation. Some clients decide to grab a cab to get to the airport to speed the rental car process along and make the most of their day ... it's literally a 3 minute ride.
Most other cruise ships come to the Lahaina dock which is a tender port ... expect the tendering process to take an hour or so. Avis will pick you up at Lahaina Harbor and service your reservation from their Lahaina / Kaanapali location, so select that one when making your reservation. The hours at this location are more limited ... they are only open from 7am to 5pm and there is no after hours return at the West Maui location. Please keep this in mind when planning your day in port in Lahaina. If you plan to use the car during the day and then go to a luau that evening, you'll need to return the car before your luau, and then grab a cab back to the dock.
Please note that the time listed for pickup is the time the vehicle is ready for you at the rental car location; they don't schedule cruise ship shuttle pickup in advance. When you are walking off the ship, call them on your cell phone. Again, even though shuttle service is available, some clients grab a taxi to the Avis locations to speed things along.
For the record, Avis & Dollar provide rental car shuttle service on the island of Kauai to service the Nawiliwili cruise ship dock. Shuttle service is also available on the Big Island at the Hilo dock. Shuttle service is NOT available at the Kona dock on the Big Island as the Kona dock is too far from the airport location. In Honolulu, public transportation (taxi or city bus) is readily available to the Honolulu Airport, but shuttle service is not provided to Honolulu Harbor.
CAB FARE ADDS UP QUICKLY!!! Rental cars open up the possibility for cruise ship passengers to arrange their own tours and activities independently rather than using excursions arranged by the ship. This will often save you a LOT of money as the cruise lines tend to mark up the cost for shore excursions or offer ones that are done in large buses instead of smaller groups. We don't know of a better way to improve your Hawaii cruise vacation than to gain some independence from the cruise ship during the time that you are in port.
ACTIVITY TIPS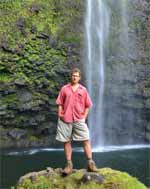 For those spending part of their vacation on Maui, the answer is "Yes, you need a rental car" as there is very little public transportation on this island. You'll have a hard time finding rental car rates that are lower than the ones we offer! Once in a while we'll get a client who flies into Kahului and takes a shuttle to their hotel in Kaanapali. They call us and want a rental car for a few days in the middle of their vacation. Then they return the car to the Kaanapali location, and use the shuttle service to get to the Kahului Airport for their departing flight. We wish these people would have talked to us first ... that approach doesn't make sense. Arrange a rental car for pickup when you arrive at the Kahului Airport and use it as the transportation to your hotel. The money you will save in hotel shuttles will just about pay for a weekly rental of a compact car!
We recently watched passengers disembarking from an NCL cruise ship and when they arrived at the dock they walked over and climbed on board a shuttle bus that had the following words painted on the side. "WALMART EXPRESS." Please, for the love of God, don't spend thousands of dollars coming to Hawaii on a cruise and then end up spending your time in port at WALMART!!! There is so much to see and do, and renting a car will open up options for you that you wouldn't have if you are dependent on your cruise line to arrange all your tours and excursions.
Throughout our website you'll find notes about activities that work for cruise ship passengers if they have a rental car. This is true of the tours featured here on Adventuremaui.com, as well as our sister website adventureinhawaii.com (the latter features tours and activities on all the major islands). We often give the advice "Enjoy your cruise ship when it is at sea; get as far away from your cruise ship as possible when it is in port." Renting a car is a great way to add independence and improve your cruise vacation.
Luaus are a good example. If you attend a luau arranged by the ship, you'll be charged up to $100 or more to be driven by bus to a luau, and you'll be attending with 600 or more other people from your same cruise ship. You'll have no control over where you sit, and you could end up so far from the stage that you'll wish you brought a pair of binoculars. If you are driving yourself to the luau and you don't have reserved up-front seats, you can at least arrive early and get better seats. If you are dependent on the cruise ship's buses to take you to your luau, you have no idea where you sit and no way to improve your seats.
How about overnight parking for Maui and Kauai? Well, in Nawiliwili on Kauai there are several parking lots several blocks from the cruise ship that charge $7-8 per night to park your car. On Maui parking is available for $5 per night at the Maui Beach Hotel, which is a 12-15 minute walk from the cruise ship dock. Of course you don't have to use the rental car for the entire 24 hour period ... you can take it back early if you like.