Maui Luaus
---
All Maui Luaus that we carry are listed here on this page, however this is a very LONG page indeed. We recommend that you attend a luau on the side of the island where you are staying. To sort the luau choices, select from the following:
South Maui Luaus for clients who are staying in Kihei, Wailea, Makena, Maalaea, Kahului, Paia, and Haiku
West Maui Luaus for clients who are staying in Lahaina, Kaanapali, Kahana, Napili, and Kapalua
COVID-19 UPDATE: All Luaus will be making adjustments to the food service procedures as self-service buffets will not be possible for the near future. Most luaus will be doing either a "family style" serving of food at the table, or a modified buffet where staff plate the food based upon guest's preferences ... and each table will be exclusive to one party. Due to extremely limited capacity due to social distancing, LUAU SEATS ARE SELLING OUT UP TO 6 WEEKS IN ADVANCE ON MAUI!!! Make reservations NOW for dates in the FALL! See the RESERVE NOW section for the first available date at each luau.
---
Wailea Marriott "Te Au Moana" Luau
Te Au Moana Luau - Private Table Seating Rate
$216.00 per Adult, $148.80 per Child (6-12), Infants (under 6) FREE (plus 4.167% Hawaii sales tax)
This luau is currently operating on Monday, Thursday, Friday, and Saturday
The ocean's tide links the generations of Hawaiians and Polynesians together, and Te Au Moana (the ocean's tide) is an extraordinary luau experience presenting those cultures in food, song, and dance. The Polynesians have great knowledge of the earth and ocean and its life giving elements. Their expert skill in fishing, gathering, gift giving, romance, and tapa making are brilliantly demonstrated and shared at Maui's newest luau experience.
Te Au Moana is resuming operations and taking MANY steps to protect the safety and health of luau attendees. All tables will be COMPLETELY PRIVATE for just your party, and tables will be socially distanced from one another. Since it is just your party at the table, the meal will be served in three courses and presented to the table "Family Style." Due to the limited capacity of the luau, the minimum table charge is two paying guests.
After dinner you'll discover the fascinating stories of the Pacific through song and dance presented by Tihati Productions, Hawaii's premier entertainment company. The show will take you on a journey throughout Polynesia, and culminate with a spectacular Samoan Fire Knife dance.
Intimate setting with panormic ocean view
See the imu (pig cooked in Hawaiian underground oven) after it is dug out of the ground
Traditional luau cuisine served family style at your private table
Open bar for beer, wine, Mai Tais, and other mixed drinks
Polynesian Show called "Te Au Moana" (the ocean's tide)
Self parking is complimentary and valet is $35.
TAM / V
COVID-19 PRECAUTIONS AT TE AU MOANA LUAU:
Individuals wanting to be seated together must all be booked on the same reservation. We are unable to combine more than one booking on a table.
Each reservation must check in with all guests in their party at their designated time to have their temperatures taken. Individuals with temperatures at or over 100.4F (38C) will have a secondary screening. Those confirmed with temperatures at or above this threshold will be denied entry.
Guests must wear a mask at ALL times while on site. Masks can only be removed when seated at their physically distanced table and consuming food or beverages.
Individuals are not allowed to mingle with guests in other reservations. All guests will be required to maintain safe physical distancing and wear face coverings while entering or exiting the venue.
Hand sanitizing stations will be readily available throughout the venue.
Vegetarian and Gluten free meals are still available upon request but must be pre-ordered.
Cruise Ship Clients

NCL Pride of America cruise ship passengers who come into Kahului are not able to do this luau because it is not held on Sunday nights.
This luau isn't practical for Lahaina cruise ship passengers due to the distance from the harbor. There are other luau options that are much closer in West Maui.
---
Myths of Maui Luau at Royal Lahaina Resort
Royal Lahaina Resort has resumed luau operations and we are accepting reservations for all future dates! They are serving food using a "modified / assisted" buffet with PPE-equipped staff plating food based upon each guest's preferences.
Myths of Maui Luau - General Admission Rate
$135.00 per Adult, $65.00 per Child (6-12), Infants (under 6) FREE (plus 4.167% Hawaii sales tax)
A premium seating option is available for $50 per seat. This fee applies to all seats, even to infants who are otherwise free in general admission.
Royal Lahaina Luau is operating Monday through Friday
No Hawaiian vacation would be complete without attending a luau, a beachside feast and hula show, and the Myths of Maui Luau at Royal Lahaina Resort is an excellent choice. The main course is the kalua pig, cooked all day in the underground imu oven. The all you can eat buffet also includes smoked turkey, a delicious island-style mahi mahi, grilled steak, shoyu chicken, and a huge vegetable and salad bar. This luau is the most kid-friendly ... they even have a "keiki food bar" with hot dogs and chicken nuggets. The open bar keeps the Mai Tais flowing from the moment the gates open until the conclusion of the show, which traces the development of hula through the ages. The show concludes with a spectacular Samoan fire knife dance. This luau is also a great family value, as children under 12 are are less than half price of adults, with toddlers and infants 5 and under being completely free.
The The luau at Royal Lahaina Resort is a good choice (and affordable) for families (at least in general admission seating where "infants" 5 and under are completely free. It gets a little pricier for VIP seats with a bunch of kid. This luau has a little more of a "local flavor" and they've done quite a grand finale with their Samoan fire dance at the end of the show. In addition to the main double fire knife dancer they also have two other kane with single fire knifes and several wahine twirling fire poi balls. It's a great photo op at the end of your evening!
RLL / V
---
Grand Wailea Luau - Aha'Aina
Grand Wailea Luau - Regular Seating Rate
$225.00 per Adult, $112.50 per Child (12 and under) (plus 4.167% Hawaii sales tax)
Grand Wailea Luau - Alii Premium Seating Rate
$275.00 per Adult, $137.50 per Child (12 and under) (plus 4.167% Hawaii sales tax)
Aha'Aina Luau is currently offered on Wednesday, Thursday, and Friday evenings.
The Grand Wailea proudly presents Maui's most elegant and uncrowded luau experience. Aha'Aina Luau features a fabulous multi-course Hawaiian fine-dining feast served at your table ... with the show interspersed throughout the evening between courses. A full open bar is included for adult beverages, and full table service is provided for food and beverages all evening. The Grand Wailea luau grounds has been arranged with ALL PRIVATE TABLES spaciously spread apart for social distancing and privacy. The newly-produced show blends traditional Hawaiian chanting, ancient hula, and some modern artistic interpretations of Polynesian culture into an enchanting evening of beauty. And the Grand Wailea Luau's GRAND FINALE is a four-man firedancing spectacular!
The Appetizer and Salad Course includes Ahi Poke with Ogo, Maui Onion, and Hawaii Sea Salt, a Poi Bowl, Ulu Macaroni Salad, a Traditional Dried Beef Salad, and Pipikaula Green Salad with Kula Vegetables and a Pineapple Vinaigrette.
The Entree Course includes ALL of the following ... Teriyaki Steak with Sesame Rice and Green Onion, Shoyu Chicken & Molokai Sweet Potato with Mac Nuts and Local Honey, Mahi Mahi with Coconut, Kaffir Lime, and Green Curry, and Kalua Pig and Cabbage with Pa'akai (sea salt).
The Dessert Course includes a selection of Maui Gold Pineapple, Haupia, Kulolo (sweetened taro), and Seasonal Sweets.
The Full Open Bar features Mai Tais, Pina Coladas, Blue Hawaiians, Mixed Drinks, Local Maui Beer, Red / White / Sparkling Wines, Soft Drinks, Assorted Juices, Regular and Decaf Coffee, and Assorted Teas.
There are two tiers of seating ... Regular, and Ali'i Premium (which is the first two rows closest to the stage). Of course the Ali'i PREMIUM seating gives you the best view (and places you close enough to FEEL the HEAT during the firedancing portion of the show), but all the tables have an enhanced view of the stage because there is so much space between tables.
Complimentary Self Parking is available at the Grand Wailea Resort for all luau reservations.
Payment for the Grand Wailea Luau is required at the time your reservation is confirmed.
STAFF REVIEW 1/15/2021: We attended this luau to get a feel for the new arrangement at this luau grounds and we were blown away by the overall quality of this presentation. The cuisine is truly high quality and fine dining, a HUGE step up from the luau buffets we've come to expect over the years. The tables are widely spaced for individual "outdoor bubbles" and we really had no health concerns while attending this event. Yes, this luau is PRICEY but it is without a doubt the most DISTINCTIVE luau experience on Maui right now. The show is fantastic, and there is no "scaling down" of the show due to the reduced seating capacity. It's about twice as much as a luau used to cost, but there are about 1/10th the number of people than there used to be. We highly recommend this event!
GWL / VP
Cruise Ship Clients

NCL Pride of America cruise ship passengers are not in port on the right night of the week to attend this luau.
Lahaina cruise ship passengers should do a luau in Kaanapali because it is much closer to the ship.
---
The Westin Wailele Polynesian Luau
The Westin Wailele Luau is on Tuesday Wednesday and Thursday evenings ... Fridays added during Summer
Westin Wailele Luau - Ohana Seating Rate
$175.00 per Adult, $80.00 per Child (4-12), Infants (3 and under) FREE (plus 4.167% Hawaii sales tax)
Ohana seating is a private table for just your group. Larger parties may need more than one table, but will be placed in close proximity to each other.
**The Wailele Luau has a special holiday rate / menu in effect on Thanksgiving, Christmas Eve, Christmas Day, and New Years Eve. Adult seats are $35 higher and child seats are $30 higher on these dates.
Shows held every Tuesday, and Thursday
Three-time Merrie Monarch winner Kamaka Kukowa with show choreographer Reri Septirno have redesigned Wailele Luau at The Westin Maui Resort & Spa. Currently held at the intimate garden setting at the resort's Valley Isle Terrace, the dinner show utilizes the elements of earth, fire and water to reflect the rich Polynesian culture through superb performances with vibrant costumes.
At the Wailele Luau guests embark on an exciting journey to the Polynesian Islands where dance was considered not just as a form of entertainment, but as means of telling stories. Highlights include the story of Pele, Goddess of Fire and a new performance dedicated to Wailele (meaning waterfalls). The show also features dances from Hawaii, Fiji, Tahiti, New Zealand and Samoa. The breathtaking finale is none other than Maui's only extreme fire-knife dance performance led by fire-knife dance champion Martin Tevaga. This three to four man fire spectacle is the most impressive of any Maui luau.
Enjoy a superb The two-and-a-half-hour show includes a free flow of drinks all evening with Mai Tai using Maui Pineapple Rum, signature cocktails, local beers, sodas and fruit juices. Dinner is served at your table "family style" with courses spread throughout the show. Click here to view the Wailele Luau Menu.
The Wailele Luau is now offering a very limited number of up front "premium" seats with an upcharge of $20 per adult and $20 per child. If any premium seats are available on the date that you request, the upgrade will be offered to you during the reservation process. These seats will sell out MONTHS in advance so make your reservations NOW for any future dates!
WPL / V
Cruise Ship Clients

NCL cruise ship passengers in Kahului are able to do the Westin Luau if they are here during the time of year that this luau is offered on Sunday evenings. A drive of about an hour is required and we can assist you with a rental car reservation.
Lahaina cruise ship passengers can do this luau as long as you are here on a night that it operates and your ship is running tenders until at least 10pm. A cab ride of about 10 minutes is required.
---
Sheraton Maui Nui Luau
All guests will be seated at private tables for just their party, with the Hawaiian dinner served family style at your table.
URGENT NOTICE: This luau stopped taking reservations for dates past June 30th while they adjusted their rate and made a decision on how many days to operate this summer. WE JUST RECEIVED WORD that they are about to open up their booking calendar for every Monday and Wednesday evening in July and August!!! We are now accepting reservations and will plug you into their system just as soon as the calendar opens. We expect it any day! HURRY ... these seats will sell out VERY quickly.
Kaanapali Sunset Luau - Private Table Rate
$172.80 per Adults, $100.80 per Children (6-12), Infants (under 6) FREE (plus 4.167% Hawaii sales tax)
Schedule: Monday and Wedensday Evenings
At the Sheraton Kaanapali Maui Nui Luau, discover the remarkable stories, history, and culture of the Valley Isle and Kaanapali through the songs and dances of Maui and the Pacific…..Discover Maui Nui Luau.
Situated beachfront on award-winning Kaanapali Beach the Maui Nui Luau shares the music, dance and history of the islands right here at the foot of the famous cliff diving point, Black Rock. World renowned Polynesian entertainment producer Tihati Productions presents the best in Hawaiian & Polynesian song and dance, including the spectacular fire knife dance.
The salad menu includes peppered pipikaula beef and chilled ramen noodle salad, Maui Gold Pineapple dusted with li hing mui powder, and kim chee spiced soy beans. Poi with Molokai sweet potato and coconut milk is a local accompaniment. The main entree menu includes vegetable curry with assorted seasonal vegetables & mild Japanese golden curry sauce, kiawe wood smoked huli huli chicken with grilled pineapple & sweet soy glaze, mini beef hamburger steak with shiitake mushroom gravy, and coconut crusted mahi-mahi with lime butter sauce & mango salsa. They also offer a "bread or bowl" option, which is a fun and creative way for all to enjoy some of the luau food. You can build your own sandwich or slider with taro rolls, sweet bread rolls, mini hamburgers, kalua pork, coconut crusted mahi-mahi, shredded cheddar cheese, BBQ sauce, and teriyaki Sauce. Or build your own bowl with steamed white rice, ahi poke, Waipoli greens, kalua pork, coconut crusted mahi-mahi, crispy garlic, furikake, bubu arare, spicy mayo, wasabi mayo, and ponzu. Don't forget about dessert! Indulge in lilikoi cheese cake and Pina Colada upside down cake.
The Sheraton Maui Nui Luau offers the best oceanfront view of any of the Kaanapali luaus ... location, location, location!
Social distancing measures are in place at this luau ... all guests will be seated at private tables for just their party. Events like the imu ceremony and demonstrations of Hawaiian crafts will happen on the stage with guests remaining at their tables. Luau menu is subject to change during this time, but a generous Hawaiian styled meal will be served family style at your table.
KSL / V
---
Hyatt Luau - Drums of the Pacific
The Hyatt Luau charges a "table rate" for the first two people in your party, then an add-on rate for additional adults and children. The maximum seats with one table charge is 6. Parties of 7-10 will be charged two "table rates" with the first four people in your party included. Parties of 11-14 require three table charges. Parties larger than 14 are best accommodated by making two reservations.
Hyatt Luau - Drums of the Pacific Rate
$379.20 per Table for 2, $96.00 per Additional Adult, $48.00 per Additional Child (4-12), Infants (3 and under) FREE (plus 4.167% Hawaii sales tax)
Hyatt Luau - VIP Seating Rate
$475.20 per Table for 2, $96.00 per Additional Adult, $48.00 per Additional Child (4-12), Infants (3 and under) FREE (plus 4.167% Hawaii sales tax)
Special holiday rate for luaus on Thanksgiving, Christmas Day, and New Year's Eve apply and are higher than these posted rates.
Hyatt Luau held nightly except Thursdays. Check In at 5:15pm.
The sound of the conch, the beating of the drums and the echoes of the Hawaiian chant signal the start of Hawaii's most exciting luau … complete with an authentic imu ceremony and the exotic flavors of native Hawaiian cuisine. While you enjoy the tastes of Hawaii, the Drums of the Pacific Polynesian Spectacular (a Tihati Production) takes you on a journey through the islands of Polynesia. Featured are authentic dances and music of the old Hawaii, Samoa, Fiji, New Zealand, Tahiti, Tonga, and Rarotonga in the hottest luau show in the Islands! Drums of the Pacific luau features is a three-man fire knife dance finale! A brand new state-of-the-art lighting system was installed for the stage, and the LED lights dramatically improve the show. The costumes pop with colors, and a new haze machine adds a mysterious aspect in some of the dances.
Guests are greeted with a lei ... a shell lei for general admission and a ti leaf lei for preferred seating. Your evening begins with Hawaiian music and audience participation featuring hula lessons, poi ball lessons, coconut tree climbing, coconut husking and finally the unearthing of the pig that's been cooked in an underground oven.
A 3 plentiful 3 course meal is served at your table including Huli Huli Chicken, Imu Kalua Pork, Macadamia Nut Crust Island Fish, Makamaka Vegetables, Molokai Purple Sweet Potato, Creamed Taro & Leaf with Coconut Milk, Polynesian Fried Rice, Soba Noodle Salad, Fresh Sliced Tropical Fruits, Lomi Lomi Salmon, Pacific Ahi Poke, Kauai Taro-Pounded Poi, Upcountry Baby Green Lettuces, Namasu of Maui Onions, Cucumbers and Carrots, and Taro rolls with Whipped Lilikoi Butter. Dessert features Haupia with Toasted Coconut, Creamed Chocolate Macadamia Nut Brownie, and Pineapple Upside Down Cake and Housemade Bread Pudding. An open Tiki bar for beer, wine, Mai Tais, other mixed drinks, tropical fruit punch, juices and sodas are included. It's a great Hawaiian Lu'au Feast. They also have a variety of vegetarian items, gluten, daily, and nut free options.
For those of you who are planning ahead and reserving in advance, don't forget about the VIP seating option! VIP seats are in the center of the luau grounds and the tables closer to the stage. VIP guests are admitted to the luau grounds prior to the opening of the general admission line. They also go through the dinner buffet before the general admission guests.
HL / V
Cruise Ship Clients

NCL Pride of America cruise ship passengers who come into Kahului are able to do the Hyatt Luau on Sunday evenings. It does require a rental car as the drive to Kaanapali takes about an hour. For rental cars with cruise ship shuttle pick-up see our rental car page.
Lahaina cruise ship passengers can do this luau on their first day in port with a short cab ride to Kaanapali as long as your tenders are running until 9pm.
ACTIVITY TIPS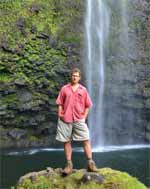 A luau is a must-do event for the first-time Hawaii visitor. Personally, I never get tired of good food, open bar, sunset views, and Hawaiian music and dance.
Our favorite location for a luau ... hands down ... is at the Sheraton Resort. Their luau grounds is located on the grassy lawn right along the beach, and there is nothing obstructing that beautiful ocean view.
The Wailele Polynesian Luau at the Westin Maui Resort and Spa is another of our top luau choices. We REALLY like the show at this one, and the Westin does a great job with the food too. Their oceanside luau location was recently renovated in 2019 and it is a slightly more intimate setting than most of the other luaus on Maui. And their Samoan fire knife dance is the most elaborate, spectacular display on the island!
The Hyatt Regency Luau at Kaanapali is famous for offering an energetic show that guests love. Down side here to this luau is that you can't really see the ocean much from any table. The luau ground is almost completely surrounded by wings of the hotel, and the view of the ocean is blocked by a row of shrubbery. It seems odd to be so close to the ocean that you can hear it, but to have your view intentionally blocked. We think it is to prevent people on the beach sidewalk from standing there and getting a free view of the show. On the upside it is now possible to get VIP seating, which will improve your luau experience over being in the general admission section.
The Royal Lahaina Luau is a good choice (and affordable) for families. They are offering a "VIP seating" option ... the cost of this upgrade is $30 per seat. This luau has a little more of a "local flavor" and they've done quite a grand finale with their Samoan fire dance at the end of the show. In addition to the main double fire knife dancer they also have two other kane with single fire knifes and several wahine twirling fire poi balls. It's a great photo op at the end of your evening!
Te Au Moana Luau at the Wailea Marriott and the Grand Wailea Luau are both good choices for people staying down south. Both luau grounds are located right along the ocean and feature expansive ocean views. The slight advantage here would be the Te Au Moana luau at the Marriott because you face the ocean when you are looking at the stage. The Grand Wailea luau grounds faces the other way; when you face the stage you are looking at the mountains, and the ocean is to your back. This takes the focus off the ocean view a little.
We used to say that if you blindfolded us and had us taste the food, we couldn't tell which one is which. That's changed ... not that the Marriott has slipped at all, but the Grand Wailea has really upped their game. The menu and quality of local ingredients has moved them into the "fine dining" category.