Road to Hana
SUPPORT LAHAINA:

We are donating 20% of our profit from ALL FUTURE 2023 MAUI TOUR BOOKINGS to Lahaina fire relief efforts!!!
---
With all those hairpin turns and one lane bridges, the Road to Hana is a drive that everyone loves ... except for the driver of the rental car. Why not go with a professional driver/guide? Everyone in your party can enjoy the same great sightseeing experience with this excellent tour!
---
---
Hana Tours with Valley Isle Excursions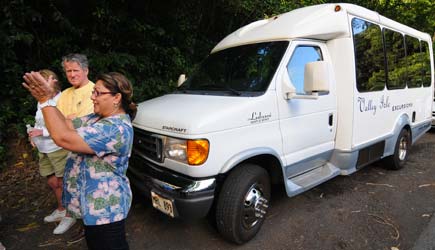 Tour the HANA coast ...in style; Valley Isle Excursions takes you on one of the most breathtaking drives on earth through Maui's tropical rainforest. 617 curves, 54 one lane bridges to Hana, pineapple fields, spectacular cliffs, bamboo jungles, waterfalls, tropical streams and pools, colorful and fragrant island flowers and rainforest vegetation are all to be enjoyed on your way to "Heavenly Hana."
The tour includes pick-up and return to your hotel, continental breakfast at the Maui Tropical Plantation, a picnic lunch with choice of turkey sandwich, chicken caesar salad, or roasted veggies on focaccia , and complimentary beverage service throughout the day. View waterfalls, the Keanae Peninsula, "Heavenly Hana" Town, and spectacular sea cliffs. This tour makes between 10-12 stops including Wainanapanapa State Park where you can walk around on a black sand beach, and a stop at a waterfall swimming hole.
The thing that makes this tour special is their luxurious Comfort Cruisers. These air conditioned vehicles hold 12 people, each with an ultra-comfortable individual reclining chairs. From the elevated view from your Comfort Cruiser you see more than the views from a rental car that sits lower to the ground. Sit back, relax, and let their expert guides do the driving for you as they share their love for and knowledge of the Hana Highway.
Minimum Notice for Cancellations / Changes: At least 48 hours before the start of the event. All tours go out rain or shine.
Valley Isle Hana Adventure Tour Rate
$274.99 per Adult, $254.99 per Child (12 and under), $264.99 per Seniors (over 60) (plus 4.1667% Hawaii sales tax)
VIE1r/k / V
---
Polynesian Adventures Road to Hana Tour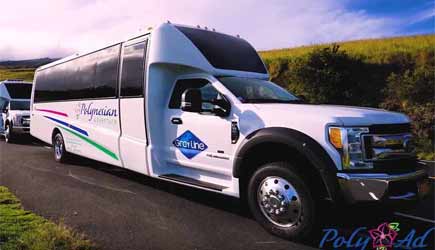 The picturesque Road to Hana is a "must see" for visitors to the island of Maui. The best way to fully experience the incredible 620 curves and beautiful 59 single-lane bridges along the way is with the comfort and convenience of a professional driver and touring vehicle designed for outstanding views. On a Road to Hana Tour with Polynesian Adventures you will be able to focus on the views out the side windows instead of concentrating on the road. They make stops along the way at some of the most well-known locations, including a conditions-permitting waterfall swim stop. Their exclusive lunch is the best in offered in Hana. While you enjoy Maui's lush countryside your driver shares Hawaiian culture, sights, and stories along the way. Polynesian Adventures is the most affordable of the Hana tours, especially for families with children.
Minimum Notice for Cancellations / Changes: At least 48 hours before the start of the event. All tours go out rain or shine.
Polynesian Adventure Road to Hana Tour Rate
$225.00 per Adult, $155.00 per Child (3-11), Infants (under 3) FREE (plus 4.1667% Hawaii sales tax)
POLYM2 / V
---
Hawaiian Style Hana Tours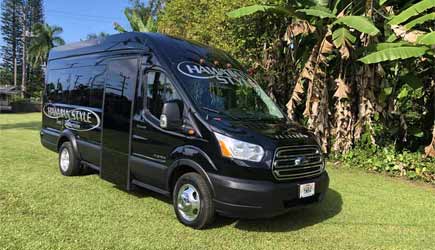 Hawaiian Style Tours, owned and operated by a local Hawaiian family. They extend first class hospitality and a level of service that is a step up from "regular" Hana tours! They offer luxury vehicles with air conditioning, leather seats, 3 point safety seat belts, and USB charging stations. They serve a light tropical breakfast of mango bread and pineapple skewers, and a catered hot lunch enjoyed at a flower farm. All-day beverages include iced coffee, bottled water and fruit juice. Each guest gets one of their souvenir Hawaiian-style logo backpacks with personal amenities. They even provide fresh towels for drying off at the swimming holes, and of course your day will be made special by a knowledgable local guide who will share the history and stories of this rainforest, and look after your safety during the day of adventure and sightseeing.
Hawaiian Style offers shared tours priced per person with a maximum capacity of 12 guests ... as well as private charters which are priced "per vehicle". If you would like to arrange a private charter in their 12 passenger coach it MUST be reserved a MONTH or more in advance! Shared tours have a minimum age of 3.
Minimum Notice for Cancellations / Changes: At least 48 hours before the start of the event. All tours go out rain or shine.
Hana Tropical Rainforest Tour Rate
$299.99 per Participant (plus 4.167% Hawaii sales tax)
Private Charters Available: $2199.99 per vehicle for 4-5 people in a Cadillac Escalade -or- $3199.99 per vehicle for a Motor Coach for up to 12 guests.
HSTT1 / V
---
Temptation Tours Premium Hana Picnic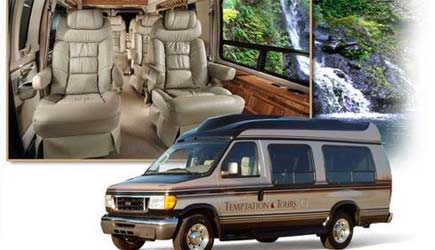 Temptation Tours offers a premium luxury limo-van tour of the Road To Hana which is limited to just 8 passengers per coach! It is a fun and relaxing and intimate full-day Hana tour. The day starts with hotel or resort pickup around 7:00am. A lite morning snack is included, as is a premium Pacific Rim Cuisine lunch. The Hana Picnic Adventure focuses on the Road to Hana sights in both directions. You will be looking out of the other side of the vehicle on the return, and seeing a completely different view, than on the way TO Hana in the morning. Hotel return is approximately 5:00pm. Your Hawaii State Certified Guide will not only be knowledgeable about the Road to Hana, but will have a passion for educating and entertaining travelers—and it shows!
Minimum Notice for Cancellations / Changes: This tour operator has one of the more elaborate cancellation policies that is based upon the size of your group. For parties of 1-2 people, minimum notice to cancel or change is 7am 2 days prior to tour date. Parties of 3-6 is 7am 3 days prior to tour date. Parties of 7-8 is 7am 4 days prior to the tour date. Parties of 8 or more is 7am 7 days prior to tour date. In addition, HOLIDAY dates have special cancellation … From December 19th – January 10th, cancellations must be made a full 7 days prior to the tour date for all parties regardless of size.
$333.00 per Passenger (Hawaii sales tax included)
TT5 / V
---
ACTIVITY TIPS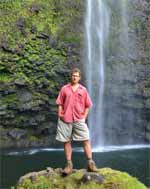 Guided Hana tours offer a nice advantage over driving around on your own. Many of the most scenic roads on Maui are rather narrow and winding with bridges that are only one lane wide. An experienced tour guide / driver who knows the road will ensure that everyone in your party gets to enjoy the view. Mini-coaches that these companies use sit higher than a regular rental car and offer superior visibility with oversized windows ... you'll see things looking over the top of the guardrail that you would miss if you were in a rental car. These vehicles are superior to a tour done in a bus (for obvious reasons) or a standard 14 passenger van that is difficult to crawl in and out of. Another advantage of the smaller vehicle with great visibility; don't be surprised if your guide knows your name by the middle of the tour.
If you love to drive on curvy winding one-lane roads that you've never seen before, you might enjoy the drive to Hana! Go for it! Many people HATE the drive to Hana, but love the ride there. That's when a tour like the ones found on this page are perfect. The size of groups on these tours is smaller ... ranging from 22 on the high end with Polynesian Adventures to just 8 with Temptation Tours ... or even smaller with Hawaiian Style Tours if you go the completely private tour route. Ever been on a bus tour where one or two people were holding up a group of 55? That won't happen on smaller tours like these.
For over 20 years the "7 Sacred Pools" was included as a stop on these tours. In the old days this was a great place to visit ... it is a bit of a hike to get down to the stream from the parking lot, but swimming at these waterfalls was a highlight of the tour for many people. Unfortunately several flood-related drownings made the National Park Service much more cautious on allowing swimming at these pools. On days when swimming was not allowed, guests were not even allowed access to the stream level, and views of the waterfalls from the upper trail were not that great. This meant that the stop at the 7 Pools was becoming a time-consuming disappointment for many visitors. Most companies are now going to a different waterfall where swimming is possible on the vast majority of days ... and the time that used to be spent at the 7 Pools is now split between this other waterfall location and the black sand beach park of Waianapanapa, a place guests often said they wished they could have spent more time.
Which tour company to use? Well, the choice MIGHT come down to whichever tour you can find space available on your date! All of these companies have returned to normal operation since the pandemic, but most of them have downsized and are running fewer vehicles per day than what they did in the past. This means that Hana tours are often selling out 6 WEEKS in advance or more! To check availability for your date, select the company you'd like to reserve using the form on the right. That will take you to a calendar where you can check a particular date ... and if the company you've chosen isn't available the number of available seats with the other comapnies will appear. We'll help you FIND space on your date ... as long as you are planning ahead!!!