Road to Hana
---
With all those hairpin turns and one lane bridges, the Road to Hana is a drive that everyone loves ... except for the driver of the rental car. Why not go with a professional driver/guide? Everyone in your party can enjoy the same great sightseeing experience with this excellent tour!
---
Hana Tours with Valley Isle Excursions
COVID-19 UPDATE:Due to Covid-19 and social distancing requirements from the Department of Health, these Hana tours are operating at reduced capacity and are selling out in advance!!! Reserve any winter or spring dates now!!!
Valley Isle Hana Adventure Tour Rate
$224.99 per Adult, $204.99 per Child (12 and under), $214.99 per Seniors (over 60) (plus 4.1667% Hawaii sales tax)
Tour the HANA coast ...in style; then continue your excursion on the magnificent road beyond Hana with Maui's #1 Luxury Tour Company. Valley Isle Excursions takes you on one of the most breathtaking drives on earth through Maui's tropical rainforest. 617 curves, 54 one lane bridges to Hana, pineapple fields, spectacular cliffs, bamboo jungles, waterfalls, tropical streams and pools, colorful and fragrant island flowers and rainforest vegetation are all to be enjoyed on your way to "Heavenly Hana".
The tour includes pick-up and return to your hotel, continental breakfast at the Maui Tropical Plantation, a picnic lunch with choice of turkey sandwich, chicken caesar salad, or roasted veggies on focaccia , and complimentary beverage service throughout the day. View waterfalls, the Keanae Peninsula, "Heavenly Hana" Town, and spectacular sea cliffs. This tour makes between 10-12 stops including Wainanapanapa State Park where you can walk around on a black sand beach, and a stop at a waterfall swimming hole.
The thing that makes this tour special is their luxurious Comfort Cruisers. These air conditioned vehicles hold 12 people, each with an ultra-comfortable individual reclining chairs. From the elevated view from your Comfort Cruiser you see more than the views from a rental car that sits lower to the ground. Sit back, relax, and let their expert guides do the driving for you as they share their love for and knowledge of the Hana Highway.
Valley Isle Excursions are superior to Hana tours offered by cruise lines because of the smaller vehicles and the more personal experience.
NOTE: Due to road conditions on the "back side" of Haleakala the tours are not able to go "all the way around" as they have in the past. They will be turning around and returning via the north shore route following the the post-lunch stop at flower farm just beyond Hana town. Swimming will still be offered at Pua'a Ka'a State Park and Waianapanapa State Park.
Because this is a long day (10-11 hours), this tour is not recommended for children under 3. Valley Isle Excursions does not provide car seats or booster seats, and you must bring your own if you need to use them. Strollers for children and walkers for elderly are not permitted on board the tour vehicle.
Swimming on this tour is dependant on weather and stream conditions. No tour price adjustments are made on days when swimming isn't possible. Valley Isle Excursions has changed the swimming stop though ... the "7 Sacred Pools" has been frequently closed for swimming by the National Park Service, so they are now stopping at a different waterfall swimming hole where it will be possible to swim on a much more consistent basis.
If you are interested in a private guide for just your small group of 10 or less, please visit our
Hana Private Tours
page, and for a air-and-ground tour of the Road to Hana see our
Hana Heli-van Tour
on the Helicopters page.
VIE / V
Cruise Ship Clients

NCL cruise ship passengers are able do the Hana tour on their first day in port in Kahului. They will pick you up at the harbor shortly after you disembark. Please note that they cannot tour you on your second day in port.
Unfortunately Lahaina cruise ship passengers are not able to do this tour either on day one (you arrive too late) or day two (your cruise ship departs too early)
ACTIVITY TIPS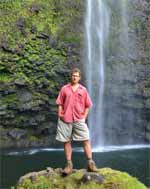 Van tours offer a nice advantage over driving around on your own. Many of the most scenic roads on Maui are rather narrow and winding with bridges that are only one lane wide. An experienced tour guide / driver who knows the road will ensure that everyone in your party gets to enjoy the view. Mini-coaches that these companies use sit higher than a regular rental car and offer superior visibility with oversized windows ... you'll see things looking over the top of the guardrail that you would miss if you were in a rental car. These vehicles are superior to a tour done in a bus (for obvious reasons) or a standard 14 passenger van that is difficult to crawl in and out of. Another advantage of the smaller vehicle with great visibility; don't be surprised if your guide knows your name by the middle of the tour.
If you love to drive on curvy winding one-lane roads that you've never seen before, you might enjoy the drive to Hana! Go for it! Many people HATE the drive to Hana, but love the ride there. That's when a tour like Valley Isle Excursions is perfect. Their Hana adventure is really first quality ... the food is excellent, the ride comfortable, and the group is small. Ever been on a bus tour where one or two people were holding up a group of 55? That won't happen on smaller tours like this. It's a good choice.
For over 20 years the "7 Sacred Pools" was included as a stop on this tour. In the old days this was a great place to visit ... it is a bit of a hike to get down to the stream from the parking lot, but swimming at these waterfalls was a highlight of the tour for many people. Unfortunately several flood-related drownings made the National Park Service much more cautious on allowing swimming at these pools. On days when swimming was not allowed, guests were not even allowed access to the stream level, and views of the waterfalls from the upper trail were not that great. This meant that the stop at the 7 Pools was becoming a time-consuming disappointment for many visitors. Valley Isle Excurions has decided to go to a different waterfall where swimming is possible on the vast majority of days ... and the time that used to be spent at the 7 Pools is now split between this other waterfall location and the black sand beach park of Waianapanapa, a place guests often said they wished they could have spent more time.