Haleakala Sunrise Tours
---
COVID-19 UPDATE:
Because of limited capacity due to social distancing, these tours are currently selling SIX WEEKS in advance!!! All future dates should be booked NOW to guarantee your space. If your date is already sold out, consider the
Haleakala Sunset Tour
instead. It's just as pretty as sunrise, and the sunset tour is typically available with a week to 10 days notice.
The 10,000 foot summit of Haleakala is a popular destination to go watch a sunrise, but that means a long drive up a volcano in the middle of the night! Why not go with a professional driver/guide? Everyone in your party can enjoy the same great sightseeing experience with one of these excellent tours!
Note: Haleakala will be closed to commercial traffic for Hawaiian cultural practices on 5/23/2021, 6/20/2021, 7/19/2021, 10/18/2021, and 12/21/2021.
---
Polynesian Adventure Haleakala Sunrise Tour Rate
$215.00 per Adult, $133.00 per Child (3-11), Infants (under 3) FREE (plus 4.1667% Hawaii sales tax)
Starting 9/15/2021 Polynesian Adventures is requiring all Sunrise tour participants to be fully vaccinated for Covid-19 at least two weeks prior to tour participation OR present a negative test result for Covid-19 taken within 48 hours from the start of your tour. Proof of vaccination status OR negative test result is required at pickup/checkin. For those who are not vaccinated and entering the state using a negative test result, you will need an ADDITIONAL TEST DONE after arriving on Maui.
Your expert driver guide will greet you at your hotel and welcome you aboard a state-of-art minibus that features wide side windows and an incredible panoramic front window well above the driver's seat to open up the finest possible views of along the way to the summit area. Your driver's superb live tour narration is augmented with captivating video segments shown on high tech vehicle monitors. Upon descending from the dormant volcano, you will join newfound friends for a delicious local style breakfast at Kula Lodge with its Upcountry hospitality and stunning views of the west Maui mountains before returning to your hotel.
Typically operates on Tuesday through Friday
POLYM3 / V
Valley Isle Haleakala Sunrise Tour Rate
$224.99 per Adult, $204.99 per Child (12 and under), $214.99 per Seniors (over 60) (plus 4.1667% Hawaii sales tax)
Valley Isle Excursions Haleakala Sunrise Tour offers insider knowledge and incorporates Hawaiian legends, culture, and history. From the rim of the crater valley in the summit area of Haleakala National Park, watch as the sun's rays streak across the other-worldly landscape. Pickup at most resorts is between 2am-2:30am and the tour is about 8 hours in length. A hot delicious full breakfast is included after sunrise at the Maui Tropical Plantation.
Typically operates on Wednesday and Friday
VIE3 / V
Skyline Haleakala Sunrise Tour Rate
$189.95 per Adult, $189.95 per Child (14 and under) (plus 4.1667% Hawaii sales tax)
Starting 9/15/2021 Skyline Haleakala is requiring all Sunrise tour participants to be fully vaccinated for Covid-19 at least two weeks prior to tour participation. Proof of vaccination status is required at pickup/checkin.
Journey in the early morning hours to the summit of Haleakala known in Hawaiian as "wao akua", or "realm of the gods." Be there when Haleakala National Park awakens with the rising sun at the summit crater overlook. Edge-of-the-world views open up in all directions while the early sunlight casts hues of natural light onto Haleakala's crater floor. This is a chilly but memorable (almost religious) experience!
Resort pickup in their comfortable fleet of tour vehicles with large viewing windows, comfortable seating, and climate-controlled interior. Having a driver / guide will not only educate you about this fragile and culturally-significant environment ... it will provide safety for you so you don't have to negotiate the steep, narrow, winding road to the summit in your rental car IN THE DARK.
When you arrive at the summit it will still be dark enough to see a sky full of stars. The predawn colors will precede the sun's arrival. As the sun rises it fills the crater with light and reveals Haleakala's interesting lunar (or Mars-like) landscape.
Following your sunrise experience you'll enjoy breakfast with a view at the historic Kula Lodge in upcountry Maui. Your sit-down breakfast will include vegetarian, gluten-free, and diet-friendly lite options.
While times vary slightly with the seasons, resort pickup is around 2:00am to 3:00am depending on your location, with Kahului cruise ship passengers picked up around 3:30am. Sunrise viewing is from 6:00am to 7:00am. Breakfast is around 9:00am, with return to your accommodations around 11:00am to 12 noon.
Typically operates on Monday through Friday
SKYH7 / V
---
ACTIVITY TIPS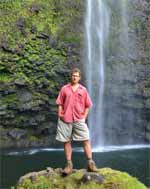 Starting in February of 2017, Haleakala National Park implemented a reservation system for sunrise viewing from the summit of the crater. Without advanced reservations, visitors are not permitted to drive rental cars into the National Park from 3am to 7am. If you want to see a sunrise from the top of Haleakala and you didn't secure a permit weeks before your Maui arrival, one of these tours is your only way to get inside the park in the pre-dawn hours.
The road to the summit of Haleakala is not as narrow as the road to Hana, but there are hairpin turns ... LOTS of them. And driving it in the middle of the night in the dark can be a challenge. Actually, if you aren't properly rested, driving can be dangerous. Consider one of these tours ... you can rest your eyes on the way up instead of having to prop them open with toothpicks and getting white knuckles from holding the steering wheel too tightly.
Haleakala is famous for its spectacular sunrises and it has a well-deserved reputation. We wish every morning at the summit could be equally beautiful, but obviously this just isn't possible. There is no way to predict which mornings are going to be pretty based upon weather forecasts. Occasionally there are days when cancellation is necessary due to a serious storm, but ordinary summit weather is notoriously unpredictable and changes quickly. The tour operators provide the same level of service every day, and incur the same expenses in operating the tour regardless of the quality of the sunrise view on any given day. All they can do is take people on their tours every day and watch what happens as the sun rises.
Which of the three companies that do this tour should you select? Honestly the tours are very similar between all three companies ... the rate structure isa little different between them though. If you've got kids in your party the bsst deal is going to be with Polyneisan Adventures. Their child rate is significantly less than the child rate with Valley Isle Excursions, and Skyline Hawaii doesn't offer a child rate at all. Aside from this issue, the best company is going to be THE ONE THAT HAS AVAILABILITY during your stay in Hawaii. Don't delay ... MAKE YOUR RESERVATIONS NOW as this popular tour was selling out almost TWO MONTHS in adance at one point during the summer of 2021.