Haleakala Day Tours
SUPPORT LAHAINA:

We are donating 20% of our profit from ALL FUTURE 2023 MAUI TOUR BOOKINGS to Lahaina fire relief efforts!!!
---
The 10,023 foot summit of Haleakala is a popular destination to go, but that means a long drive up a volcano in the middle of the night! If you prefer to explore Maui in the daylight hours, choose one of these tours below. You can still get your sleep on your vacation, and enjoy the wonders of Haleakala and the island!
Note: Haleakala will be closed to commercial traffic for Hawaiian cultural practices on 5/23/2021, 6/20/2021, 7/19/2021, 10/18/2021, and 12/21/2021.
---
Haleakala, Upcountry, and Iao Tour
Valley Isle Excursions Haleakala Day Tours are paused until summer of 2022. A firm date for resuming this tour has not yet been announced.
Valley Isle Haleakala / Upcountry / Iao Tour Rate
$155.99 per Adult, $135.99 per Child (12 and under), $145.99 per Seniors (over 60) (plus 4.1667% Hawaii sales tax)
This tour will will bring you to significant cultural sites and you will learn how ecological systems function and more! Immerse yourself in the island's culture, farming practices, bird watching, food practices, fishing, climate zones, and how Hawaiians malama aina - care for the land. You will also learn about the ancient Hawaiian watershed system, ahupua'a, from summit to fishpond. This tour is on offered Monday, Wednesday, and Friday. The tour includes complimentary hotel or Pride of America cruise ship pickup and return. South and West Side Hotel/Condo pickup are between 6am and 7:15 am, and returns are between 4pm and 5pm. The entrance fees to Haleakalā National Park and ʻĪao Valley State Park are also included. Enjoy all you can drink non-alcoholic beverages. Two meals are provided on this tour. Breakfast at 7:30am at Cafe O'lei (Maui Lani) and a lunch picnic.
This mauka to makai tour includes sites such as Iao Valley, Haleakala National Park Summit Area, Upcountry Maui ranches & towns as well as other special areas like Kealia Wildlife Refuge, Kula and Paia too. Guest have stunning photo opportunities including waterfalls, religious, cultural and biological points of interest. Start you day by exploring central Maui with a light tropical continental breakfast of pastries, coffee, tropical fruits, juices with the stunning views of the West Maui Mountains. The Haleakala National Park is their official introduction to the Park. You will learn about the land and its significance to the Hawaiians. Before entering the "house of the sun", you will follow Hawaiian protocol and announce ourselves. On the ridge of the Haleakala valley, the Summit Visitor Center, provides a breathtaking and panoramic view. At the peak of the Haleakala, just above the Visitor Center, enjoy the 360 degree views from the Red Hill Observatory. This stop is only available on the 12 passenger van.
At the enchanted Iao Valley, listen to stories and legends that fill this area and experience the beautiful Iao Needle as well as state park around it. Iao Valley is a significant spiritual and historical center for Hawaiians. At the entrance of Iao Valley, explore the Kepaniwai Heritage Gardens, which is displays the mix of cultures that make up Maui. Each culture is represented with their own unique pavilion or garden style, including a Hawaiian hale. For a truly Hawaiian experience, you will visit Kealia Pond & Refuge, which has had many uses over the centuries, and it is now a National Wildlife Refuge (not available on holidays and weekends).
Explore the beautiful Upcountry Maui where the winding roads take you through the island's upcountry towns, ranches and forests. Each with their own unique character and story! This area also offers some of the best flower farms in Hawaii along excellent views! A classic upcountry lunch is included in the tour at on of their many picnic locations. The locations are chosen based on views and weather. The picnic lunch includes baked BBQ chicken, mixed green salad, mac sald, dinner roll, curry vegetable noodles (vegan), cold juice, water, and soda.
The guides/drivers are professionally trained, knowledgeable, safe, and fun. They are also NAI (National Association of Interpretation) trained and certified. The custom cruisers have giant panoramic viewing windows, elevated seats, air conditioned, reclining captain's chairs, over head storage, and extra leg room. The high back leather seats have headrests, extra thick padding, 3 point seat belts, armrests, and USB charging ports. The ADA Compatible options include wheelchair lifts and disabled options and it must be resrved at least 4 days in advance. On board there is an oxygen generator, AED, and all guides are first aid and CPR certified. Their custom cruisers come in both 12 and 24 passenger sizes. The group sizes are limited to 12 guests per guide, and a second guide is added to the larger vehicles to increase your comfort, safety, and experience. They ensure there are clean an well-maintained bathroom stops.
Valley Isle Excursions use eco-friendly methods wherever possible including environmentally friendly cleaning supplies, recycle all drink containers (that are provided on the tour), reuse cutlery and plates, repurpose melted cooler ice (on the landscaping), customize the vehicles to achieve optimum efficiency, train their drivers how to be extra fuel efficient, and maintain high vehicle maintenance standards.
VIE4 / V
---
If you're interested in only biking Haleakala, check out the Downhill Bike Tour! Choose between Sunrise, Pre-Dawn, or Day Bike Tours.
Cruise Ship Clients

Pride of America cruise ship passengers are able do the Haleakala / Upcountry / Iao Valley Tour on their second day in port and the tour company will pick you up at the harbor.
The timing of this tour does NOT work for cruise ships that tender in the port of Lahaina.
ACTIVITY TIPS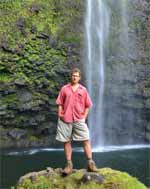 When most people hear the word "Haleakala" they think of watching a sunrise at the top of this 10,000 foot tall volcano. Sunrise tours are indeed popular, but for those who don't want to get up in the middle of the night during their vacation, these day tour options are a great way to see the crater. As a matter of fact, the cinder cones and colors of the crater actually show up better for viewing (and especially for photography) a little later in the morning whent he sun is higher in the sky. At dawn, the sun is glaring in your eyes when it appears and the inside of the crater is backlit. With the sun higher in the sky, the details start to emerge and the red cinder cones show up the best. The mountain is also less crowded during the daytime hours. Crowds got to be such an issue at sunrise that the park had to restrict the number of vehicles (both private cars and tour coaches) that are allowed into the park prior to the sunrise.
Whatever you do, don't come to Maui and miss seeing the inside of this wonder of nature!