Lanai Snorkel Tours
---
Nine miles across the Au'au channel from West Maui lies the privately-owned island of Lanai. It was once the largest pineapple plantation in the world; now very little pineapple is grown there. The island's economy is centered around the two resort hotels - the Manele Bay Hotel and the Lodge at Ko'ele. Most visitors to the island come over for the day from the island of Maui. The island is very dry and doesn't have the lush beauty found in Maui's rainforests, but Lanai has the longest stretch of coral reef in Hawaii and the beaches on this island are down right deserted. The area around the Manele Bay hotel is particularly beautiful, with uncrowded beaches, fascinating tidepools, great snorkeling, red seacliffs, and lots of sun. But the biggest attraction of Lanai is the large pod of Spinner Dolphins frequently encountered on Lanai's southern coast ... watching these marine mammals in their natural environment will surely be one of your most memorable vacation highlights!
---
Lanai Explorer - Our most popular Lanai tour
Lanai Explorer with Landing - 6.5 Hours
List Price: Adults $139, Children (5-12) $109
Our Price: Adults $119, Children (5-12) $99
What a great trip! As your raft crosses the Au'au Channel on the way to Lanai the search for dolphins begins. When you arrive at the island of Lanai the captain will select an excellent spot to snorkel from the boat. After snorkeling, the Lanai Explorer lands at Manele Bay Harbor. You get to spend three hours on the island of Lanai, exploring some fabulous isolated beaches that are a 7-10 minute walk away. More great snorkeling is available at the beach, and don't miss the fascinating tide pools found nearby (see the amazing photos above). This 6.5 hour trip is perfect for people who want to go on a snorkel trip to Lanai, but who don't want to spend the entire time on the boat. During the three hours on the island you are on your own and free to go off and explore. Hike the trail to the spectacular Sweetheart Rock overlook. Relax at breathtaking Hulopo'e Beach. You can even walk up to the luxurous Manele Bay Hotel and stroll the grounds or enjoy a cocktail at their poolside bar.
The Lanai Explorer with Landing is the single most highly recommended activity by Adventuremaui.com clients! We had one client who enjoyed this tour so much that the next year they came to Maui they booked this same tour for TWO days in one vacation! Here is a sample letter we received from one of our clients ... "I just wanted to let you know that the Lanai Explorer w/ landing trip was the best trip ever! I will never forget the snorkeling experience that I had. My whole family enjoyed it. They packed a mean lunch that fed us the whole time we were on the island. Just to experience this was once in a lifetime, but if I do come back I will definitely take this trip again." J McKernan, Lafayette, OR
This tour includes snorkel gear, and a personal-sized cooler with a deli lunch and beverages that you take with you to the beach. The Lanai Explorer is fast, fun, and comfortable with a maximum capacity of 35. The Lanai Explorer with Landing tour is offered on Mondays, Wednesday, and Fridays ... check in is at Lahaina Harbor at 9:00am and the tour is from 9:30am to 4:00pm.
---
Lanai Explorer Dolphin (no landing) - 4.5 Hours
List Price: Adults $99, Children (5-12) $79
Our Price: Adults $89, Children (5-12) $69
This tour is operated on the same boats that do the Lanai Landing, but with a shorter itinerary. Instead of stopping at Manele Harbor and giving you three hours to explore the island of Lanai, the boat goes to a second snorkel location for an additional hour of snorkeling. The tour includes snorkel gear, two snorkel sites from the boat with a total snorkel time of a little over two hours, breakfast, a deli lunch, and dolphin watching ... all in a 4.5 hour trip. While the overall tour length is shorter than the landing version, the non-landing tour does have more time on the water and this increases the opportunities for encountering dolphins! The Lanai Explorer Dolphin (no landing) tour is available on Tuesdays, Thursdays, and Saturdays ... check in is at Lahaina Harbor at 7:00am and the tour is from 7:30am to 12:00pm.
Note: Lanai Explorer has a $6 per seat fuel surcharge for adults and children on all of their tours which will be added to the above rates.
Not recommended for anyone with neck or back injuries or pregnant women. Minimum age for these tours is 5. Exceptions may be made for kids who are 4 years old and particularly adventurous and are good swimmers. Vegetarian lunches are available by request ... if you would like a vegetarian lunch please call our office after making your reservation using the form on the right.
SEA / V
---
Lanai Explorer / Whale Watch Combo
This is a WHALE of a combo deal! If you are coming during humpback whale season (December through April) reserve either of the Lanai Explorer snorkel tours listed above and receive an adult rate of $28pp on one of the Whale Express whale watches (normal list price is $39). CLICK HERE FOR MORE INFORMATION OR TO RESERVE THIS COMBO.
---
Ocean Riders - the most adventurous Lanai tour
List Price: Adults $139, Children (5-12) $114
Our Price: Adults $124, Children (5-12) $104
Ocean Riders has a 3% fuel surcharge which is added to the above rates.
Available 7 days a week.
Ocean Riders is the ultimate Lanai adventure, completely circling the island in a zodiac raft. They are the only tour operator that consistently circumnavigates the entire island of Lanai year-round. On a normal tour you will see shipwrecks strewn along the north shore of Lanai. They anchor in shallow water and you have the opportunity to swim in and walk around on an isolated, remote beach where there is no hotel or road in sight! Your captain will pull inside a sea cave carved out of the cliffs by giant storm swells over the centuries. Witness the cliffs of the Kona Coast of Lanai ... and see Shark Fin, one of our favorite snorkel spots in Hawaii and one of the few places where pyramid butterfly fish can be seen.
Ocean Riders zooms in and out of every nook and cranny of the coastline, sometimes at breathtaking speeds! Lanai has some unbelievable scenery and wild rock formations on the back side ... places that very few people who live in Hawaii have ever seen ... but with Ocean Riders you get to see it all! For thrill seekers, this is the trip for you! It also offers you the ultimate get-away adventure. They are going to snorkel at places where other snorkel boats just don't go. On a normal day they will snorkel at three different spots ... sometimes four. And if there are dolphins anywhere along the route ... Ocean Riders will find them!
On very rare, EXTREMELY calm days Ocean Riders will set asisde their normal itinerary and head to the north shore of MOLOKAI ... where even more spectacular scenery than Lanai awaits. If you happen to catch them on one of these days, count yourself particularly blessed and make sure you have LOTS of room left on your digital camera's memory card! The setting on Molokai is truly stunning ... the tallest sea cliffs in the world tower overhead and sea caves and waterfalls await around each turn.
Ocean Riders features a deep-V rigid hull inflatable raft that is 30 feet in length and capacity is limited to 18 guests per tour. The boat is powered by twin 250hp engines ... this boat is truly the Ferrari of snorkel tours on Maui! Ocean Riders checks in at the Mala Boat Ramp just 1/2 mile north of downtown Lahaina (not Lahaina Harbor) ... check in is at 6:30am. The tour departs at 7:00am and returns between 2:00pm and 3:00pm (depending on ocean conditions).
This trip is limited to 18 people per day ... children under 5 are not permitted. Rough ocean conditions are sometimes encountered. No one who is pregnant or has neck or back injuries is permitted. Sound like the sign posted at the entrance of a roller coaster??? Maybe a little ... but after all, this trip is the ADVENTURE of a lifetime. There are a few days per year that the winds don't permit going all the way around, but circling the island of Lanai (or going to the north shore of Molokai) is always their goal.
OR1 / V
Cruise Ship Clients
NCL cruise ship passengers in Kahului are able to do any of these tours on the morning of your second day in port. Transportation is not included, and is most economically done by renting a car. We can arrange a rental car with shuttle pick-up at the harbor; rates vary throughout the year but start around $40 per day in low season; see our rental car page for more information. Drive time is approx. 60 minutes to Lahaina. You might also consider a Molokini snorkel tour as those trips depart from Maalaea Harbor, which is just 15 minutes away from your cruise ship's dock.
Lahaina cruise ship passengers can do the Lanai Explorer with Landing as long as you are in port on the correct day of the week. This tour leaves from the same harbor where your ship's tender arrives, so no transportation is necessary.
ACTIVITY TIPS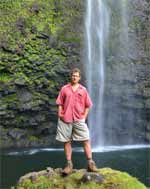 A Lanai dolphin adventure is a must-do on my list of Maui activities. If you have time for two snorkel boat tours, go to Molokini and Lanai. If you only have time for one, go to Lanai!!! The reef there is just as good as Molokini (better in places) with lots of fish and turtles ... and there are a lot less people.
Lanai trips are definitely a good way to go for people staying in the West Maui area (Kapalua, Kahana, Honokowai, Kaanapali, and Lahaina). Lanai trips leave from Lahaina, so much less driving is involved than most of the Molokini boats.
While none of the Lanai trips GUARANTEE dolphin sightings, it is unusual to not encounter dolphins along the south coast of Lanai. Your chances of seeing dolphins is in the 75-80% range on any given day.
Lots of people ask if they can swim with the dolphins. The honest answer is "probably not." Snorkel tours have to be very cautious in approaching dolphins ... they are protected marine mammals. Once in a while a boat will stop to snorkel and the dolphins will approach out of curiosity. If this happens, enjoy the moment ... you are truly blessed. Don't plan on it happening. You will likely see plenty of activity just watching them from the boat ... the large pod of spinner dolphins at Lanai is very active. You will likely witness acrobatic behavior and dolphins will probably swim on both sides of the bow of the boat just a few feet away from you.
So now you know you want to go to Lanai. Which boat should you do?
The Lanai Explorer is our most popular tour .... it offers the adventure of rafting ... but more comfort than most rafts as there are real seats on board the vessel (you don't have to sit on the innertube sides of the raft unless you want to). The Lanai Explorer also offers quite a bit of shade and has a marine head on board when nature calls. We absolutely LOVE the Lanai Explorer with Landing tour. Grab your camera and hit the trails that go out to the point beyond Hulopo'e Beach ... see the colorful tidepools and sea arch, scrample down a wooden ladder to the hidden beach that looks out to Sweetheart Rock (the Hawaiian placename is Pu'u Pehe), and hike up to the overlook. You can even walk up to the Manele Bay Hotel ... the place Bill Gates rented out entirely when he got married here on Lanai. This tour is doable for the majority of our clients ... but not all. Keep in mind that there is a walk of about 5-7 minutes each way to and from the beach.
The non-landing version of the Lanai Explorer is a great choice for people who have been on-shore at Lanai before ... and want to spend more time out on the ocean around the island.
Finally ... the trip for the die-hard adventurer. Ocean Riders is an awesome tour ... if you are up to the challenge. When you leave the harbor at 7:00am be aware that it will be 7 or 8 hours before you will see another white porcelein seat with chrome handle on the side of it. This tour can be rough at times ... but in terms of the amount and variety of snorkeling, the overall distance the tour covers, and the value you get for your dollar ... this is the best itinerary in Hawaii for those of you die hards out there!
One more Lanai ocean adventure worth mentioning ... for CERTIFIED scuba divers, Extended Horizons operates an excellent scuba diving trip to Lanai ... they typically visit the spectacular underwater grottos called "Cathedrals" as well as one other site. For more information about Lanai scuba diving see our Scuba Diving page.