ATV Tours on Maui
---
Maui Mountain Activities ATV Tours
With Maui Mountain Activities ATV Tours, explore the West Maui Mountains and you'll view beautiful waterfalls from a distance. Next cruise down to ride alongside the great blue Pacific Ocean. The experienced and friendly guides will take photos of you and you'll have memories that will last a lifetime.
This 1.5-2 hour tour runs Monday through Saturday with a 8:15am or 12:15pm check in time. It includes complimentary refreshments, and they will provide helmets and goggles. Long pants and closed toe shoes are required. The minimum age for drivers is 16 and all minors must be accompanied by an adult. All drivers must have a valid drivers license. Maximum weight is 300 pounds. Minimum age for "Ride with a Guide" Passengers is 4.
ATV DRIVERS $180.00 per person, RIDE WITH GUIDE PASSENGERS $130.00 per person (plus 4.167% Hawaii sales tax).
MMA / V
Cruise Ship Clients
NCL cruise ship passengers in Kahului are able to go on the morning or afternoon of their second day in port in Kahului. This is a 10-12 minute cab ride to the ranch, or we can arrange a rental car with shuttle pick-up at the harbor. Rates vary throughout the year but start around $40 per day in low season; see our rental car page for more information.
Lahaina cruise ship passengers can do these tours in the afternoon of their first day(as long as your ship is running tenders until at least 8pm) or on the morning of their second day in port but you will need a rental car and the drive time is about an hour.
ACTIVITY TIPS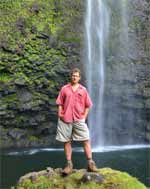 ATV's are a LOT of fun to drive! And just think! If you wear a WHITE t-shirt at the beginning of the tour, it will be a RED DIRT shirt by the end of the tour! The terrain here is often dry and dusty at the bottom of the course, and noticebly wetter and muddier as you get higher up on the mountain. Showers are more frequent at higher elevation. You might get dirty at the beginning of the tour, have all the dirt washed off by a shower during the middle of the tour, and then dirty again before the end of the tour. A towel to sit on ... or better yet a change of clothing before getting back into your rental car ... both are ways to avoid a cleaning fee when you get back to HERTZ/AVIS/DOLLAR/BUDGET/ENTERPRISE/ALAMO at the end of your vacation.