ATV Tours on Maui
---
Come join the staff of Kahoma Ranch ATV for Maui's only true off-road adventure! Ride your own two-seater Polaris Ranger ATV through cattle pasture on private roads and trails on the slopes of the West Maui Mountains. Enjoy breathtaking views of of Lahaina Town, Kaanapali Resort, and the islands of Lanai and Molokai on the horizon.
Check in is at the Lahaina Gateway center where Kahoma Ranch has a store next to Mahina Boutique and near Office Max. From there you are transported via 4 wheel drive shuttles into the foothills of the West Maui Mountains to the ATV baseyard. Here you receive a safety briefing and instruction, get set with your helmet and goggles, and the adventure begins!
You'll pass an ancient puu (vocanic cinder cone) as the trail climbs higher up the slopes. Part way up the mountain there's a spectacular overlook looking across the Kahoma Valley and deep into the heart of the mountains. At the top of the trail you'll come to a fresh water reservoir supplied by a historic network of diversion ditches that were built a century ago to bring water to the thirsty sugar cane and pineapple fields.
All Tours are approximately 2.5 hours long including shuttle ride to the ATV staging area. Rates are the same for all tours. SOLO DRIVERS $220.12 per person, ADULTS (shared vehicle) $143.40 per person, Children (ages 5-12) $79.40 per person (plus 4.167% Hawaii sales tax).
7:30am, 10:00am, 12:30pm, and 3:00pm ATV Tour: Approximately 90 minutes of ATV riding, with a brief photo / rest / snack stop at the overlook.
The Polaris ATV's are easy to drive with automatic transmission (high and low range). No previous ATV experience is required and all drivers receive a vehicle orientation. While this event is suitable for first-time ATV drivers, as with any moving vehicle, there is an element of risk assumed by drivers and their passengers. A signed waiver of liability is required for all participants.
A few details of participation:
Minimum age to participate is 5. Minimum age to drive an ATV is 16. Minimum age to drive an ATV solo (without an adult passenger) is 18. All minors under 18 must be accompanied by an adult.
All drivers MUST have a valid driver's license, and a credit card must be used as a "deposit" in case a vehicle is damaged due to negligence.
The passenger weight limit is 500 pounds combined per vehicle.
Pregnant women and anyone with heart, neck, or back problems are not allowed to participate in this event.
All participants must wear closed toed shoes like sneakers or hiking boots. Wear clothes that you don't mind getting dirty (rental clothing is available for a $5 cleaning fee).
All tours include goggles, helmets, a souvenir bandana, and a snack of beverages, granola bars, and fresh Maui pineapple.
KAH / V
Cruise Ship Clients
NCL cruise ship passengers in Kahului are able to do the 11am or 2pm tours on day one in port or the 8am or 11am tours on day two. Drive time to Lahaina is approximately an hour and we can arrange a rental car with shuttle pick-up at the harbor; rates vary throughout the year but start around $40 per day in low season; see our rental car page for more information.
Lahaina cruise ship passengers can do these tours while in port and only a short 5-7 minute cab ride is required to get to the checkin location.
ACTIVITY TIPS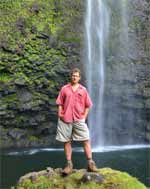 ATV's are a LOT of fun to drive, and this tour is particularly well suited for couples and for families with children who are all over 5. Two seater ATV's are more fun because you have someone to talk to and laugh with during the adventure!
And just think! If you wear a WHITE t-shirt at the beginning of the tour, it will be a RED DIRT shirt by the end of the tour! The terrain here is often dry and dusty at the bottom of the course, and noticebly wetter and muddier as you get higher up on the mountain. Showers are more frequent at higher elevation, and this tour takes you up to the 1800 foot level. You might get dirty at the beginning of the tour, have all the dirt washed off by a shower during the middle of the tour, and then dirty again before the end of the tour. A towel to sit on ... or better yet a change of clothing before getting back into your rental car ... both are ways to avoid a cleaning fee when you get back to HERTZ/AVIS/DOLLAR/BUDGET/ENTERPRISE/ALAMO at the end of your vacation.
Because these vehicles hold 2 people, it works really well for couples ... and they do allow drivers and passengers to trade places during the tour as long as both of them presented a license upon checkin. If two adults are sharing a vehicle the cost is $143.40 per person. If an adult is driving and a child is riding along, it is $143.40 for the driver and $79.40 for the child. The "driver only" rate of $220.12 applies only when an adult driver is alone in the vehicle.
Where it gets a little tricky is when you get larger parties with multiple kids or odd numbers of people. If you have a party of five adults, four can fit in two vehicles at $143.40 a person, and the fifth person can either pay the $220.12 to drive a vehicle alone, or pay the $143.40 rate and ride along as a passenger with a guide or on an ATV driven by someone in a different party. A mom, dad, and three kids between 5 and 12 would need one of their children to ride along with a guide.
Occassionally two people travelling together will each want their own vehicle rather than either one being a passenger. If that's the case, the rate would be $220.12 per driver. If this is your desire, simply select 2 "solo drivers" and 0 "shared adults."