Molokai Tours from Maui
---
Molokai Day Tour from Maui Rate
$339.00 per Adult, $299.00 per Child (3 - 12), Infants (under 3) FREE (Hawaii sales tax included)
Available Monday - Saturday. No tours on Thanksgiving, Christmas and New Year's Day.
Start the morning with a scenic and memorable airplane ride from the Kahului Airport to the Molokai Airport. Then make the most of your day on Molokai with an experienced local tour guide in a comfortable air conditioned vehicle. An "island style" lunch is included and served at a local oceanside restaurant. Highlights include the Kalaupapa Sea Cliff Lookout, Father Damien's churches (now St. Damien!), Halawa Valley Lookout, Purdy's Macademia Nut Farm, Hawaiian fishponds, a Molokai coffee plantation, "downtown" Kaunakakai, Kaleonanahoa, a fishpond and more! Your local guide will explain much about Molokai's history, including the island's most famous resident and his dedicated work with those who were suffering from Hansen's Disease!
Molokai is a glimpse into the Hawaii of the past. Largely unaffected by the vast resorts of Maui or the tall high rises of Oahu, Molokai is the place to go if your idea of a vacation is laying on the beach underneath a palm tree and reading a good book. Molokai is the fifth largest of the main Hawaiian islands and has a population of about 7,000 hardy residents. The island is best known because of the long time missionary service and lifelong dedication of Father Damien de Veuster, a Belgian priest and now a canonized Roman Catholic Saint who sacrificed his life caring for sufferers of Hansen's Disease, also known as leprosy. A small penninsula on Molokai's north shore called Kalaupapa was the place where those exposed to leprosy were forced into quarantine by Kamehameha V who ruled Hawaii from 1863 to 1872. There are no longer any active cases of Hansen's Disease, and the quarentine was lifted in 1969, but there are still a few residents of Kalaupapa who were once afflicted with the disease. There are no roads to Kalaupapa to this day; just an extremely rugged mule trail that leads down from the overlook. This overlook will likely be the highlight of your visit to the island. Kalaupapa is an 11-thousand acre unincorporated community bordered by some of the highest sea cliffs in the world.
Check in: 30-45 minutes before your flight at Makani Kai Air at Kahului Airport General Aviation (1 Keolani Pl, Kahului, HI 96732) Flights: 8:25am departure and 5pm return flight. Tour includes: Scenic round-trip flight to/from Molokai, guided ground tour in a bus, lunch & bottled water. Plane: Makani Kai Air uses nine-passenger turboprop Cessna Grand Caravans. Vehicle: 7 to 15 person bus or van. Cancellation Policy: Cancellations require a 48-hour notice.
Cruise Ship Clients

Sorry, Molokai Day Tour does not fit the itinerary of any of the cruise ships.
ACTIVITY TIPS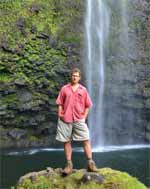 This is a great idea for people who have been to Maui before ... done most of the luaus, snorkeled at Molokini, taken a helicopter tour ... if you are looking for something different and off the beaten path, look no further than the beautiful island looming to the northwest of Maui.
On this guided tour, you'll learn much about the island's history and people. Most of the sites on the van tour are the very same places those who are driving the eastern side of Molokai would visit. With the van tour, you'll have the luxury of having someone to take you to these places, rather than trying to find them on your own. And since the big attraction to Molokai is the life and work of Father Damien (now St. Damien) who is reknowned for his work at the leprosy colony on the isolated Kalaupapa Peninsula, it makes sense to have a local guide who can tell you all about this history during the drive.
Day tours to Molokai do not offer enough time to ride the mules down to Kalaupapa, or hike the trail that leads to this isolated penninsula (access to Kalaupapa is by advanced permission only). In the spring of 2020 that trail is also closed for the foreseeable future due to a landslide. This tour DOES offer the chance to look down on the Kalaupapa Penninsula from a very scenic overlook, which also offers a view of the dramatic north shore seacliffs of Molokai. To really see these cliffs, and the tallest waterfall in the state of Hawaii, also consider doing a helicopter tour of Molokai which leaves from the Kahului Airport on Maui.
One final thing ... don't confuse Molokai with Molokini. Molokini is a tiny crescent shaped island two miles off the south Maui coast and is a favorite destination for snorkel tours. Molokai is a large inhabited island northwest of Maui.