Evening Shows on Maui
---
Warren & Annabelle's Magic Show
Guests must be 21 or older ... payment for this activity is processed at the time your reservation is made.
From the moment you step into the outer parlor, you realize that you are in for a special evening of mystery and amazement. Refreshing cocktails, island-style appetizers, and decadent desserts are available during the pre-show, which features the resident ghost Annabelle playing songs at your request on her grand piano. After relaxing and dining in the outer parlor, the show moves into the luxurious and intimate theater where the best of the evening awaits you. It is magic like you have never seen before. This is not the type of magic where people disappear and ladies get sawed in half ... this is close-up magic done with sleight of hand and misdirection. Sometimes magic is even done in the palm of your hand!
Warren Gibson, renowned magician and highly acclaimed showman, is the founder of Warren & Annabelle's and is frequently the evening's performer. We have seen his show many times and we enjoy him more each time ... his unique style of close-up magic, sense of humor, and southern hospitality is truly a special treat. Warren will keep you sitting on the edge of your seat ... he has a rare talent of making people laugh so hard that they cry. Don't be surprised if your sides are a little sore from prolonged laughter as you leave the theater!.
Warren frequently features guest magicians from around the country ... magicians like Dana Daniels, winner of the "Comedy Magician of the Year" award at Magic Castle in Hollywood ... John Shryock who is seen on the TV show "Masters of Illusion" ... Chris Blackmore has entertained thousands daily at Disney World... no matter who is appearing at Warren & Annabelle's you are in for a special evening of fun and amazement. Our guests consistently rate this as their most outstanding evening spent in the islands. Warren has performed numerous times for Arnold Schwarzenegger and his assessment sums it all up ... "He is the best there is!"
Warren & Annabelle's is available five nights a week ... Monday through Friday evenings. Parlor seating begins at 5:00pm ... and the show ends about 9:00pm.
Basic Admission: $71.88 (including tax) Admission to the show; you may order drinks, gourmet appetizers, and desserts a la carte off the menu.
Royal Flush Package: $119.79 (including tax) Admission to the show, two premium cocktails per person, a dinner-sized plate of gourmet appetizers per person, one of their killer desserts per person, and gratuity for your server. This is an exceptional value for a complete evening of dining and entertainment. Obviously this is the package we suggest.
Guests must be 21 or older ... because alcohol is served in the theater and checking ID's in that setting would disrupt the show, every guest is required to present ID at the door to verify age. The theater is kept rather cool, so sweaters and long pants are recommended. Payment for this activity is processed at the time your reservation is made ... Warren and Annabelle's requires payment in full for their show at the time a reservation is confirmed.
WAR / V
Cruise Ship Clients
NCL cruise ship passengers in Kahului are not able to attend Warren & Annabelle's as the theater is dark on Sunday evenings.
Lahaina cruise ship passengers can attend this show as long as your tender runs until at least 9:30pm. No transportation is needed as the theater is a 7 minute stroll from the cruise ship dock, with ample shopping opportunities along the way.
ACTIVITY TIPS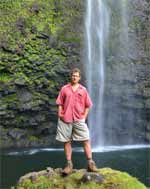 Warren & Annabelle's Magic Show is not just a fun evening ... it is without a doubt the most fun you will have on your entire vacation. You will laugh and you will be amazed. There is absolutely nothing Hawaiian about this show at all. Warren Gibson is one of the most talented close-up magicians in the world. His ability to manipulate the audience through timing and misdirection is impeccable. As we state above, this isn't the kind of magic where ladies get sawed in half. He does tricks right in people's hands and they can't tell when or how the magic happens ... it just HAPPENS! The theatre is small and intimate, you will get a great view anywhere you sit. The evening begins in Annabelle's parlor ... Annabelle is a ghost who happens to be an accomplished musician. Call out the title of a song, and she will begin playing it. Appetizers, cocktails, and desserts are sold in the parlor before the main show. Don't forget your ID ... this is not an adult show as far as content goes, but it is a nightclub and no one under 21 is admitted. I don't think there is anything in Hawaii that gets this level of personal recommendation from us. Trust us ... YOU HAVE TO SEE THIS SHOW!
Some of our regular guests may come to this page looking for the show called Ulalena held at the Maui Theater in Lahaina ... Sadly, they have ended their 16+ year run in May of 2018 and the show is no longer available.