Molokai Tours
---
Molokai is a glimpse into the Hawaii of the past. Largely unaffected by the vast resorts of Maui or the tall high rises of Oahu, Molokai is the place to go if your idea of a vacation is laying on the beach underneath a palm tree and reading a good book. Molokai is the fifth largest of the main Hawaiian islands and has a population of about 7,000 hardy residents. The island is best known because of the long time missionary service and lifelong dedication of Father Damien de Veuster, a Belgian priest and now a canonized Roman Catholic Saint who sacrificed his life caring for sufferers of Hansen's Disease, also known as leprosy. A small penninsula on Molokai's north shore called Kalaupapa was the place where those exposed to leprosy were forced into quarantine by Kamehameha V who ruled Hawaii from 1863 to 1872. There are no longer any active cases of Hansen's Disease, and the quarentine was lifted in 1969, but there are still a few residents of Kalaupapa who were once afflicted with the disease. There are no roads to Kalaupapa to this day; just an extremely rugged mule trail that leads down from the overlook. This overlook will likely be the highlight of your visit to the island.
It is a little difficult to get here to Molokai ... there are a very limited number of flights from Maui and Oahu each day and they are quite expensive. The more affordable way to visit this island is by boat ... the Molokai Ferry offers service from Maui to Molokai ; a one-day cruise/drive package with a rental car is available Monday through Saturdays. On Monday, Tuesday, Wednesday, and Friday you can do a one-day ferry with a guided van tour upon arrival to Molokai.
The Molokai Princess is a stable, 100 foot vessel design for inter-island travel and able to cruise at speeds of 30+ miles per hour. She is Coast Guard certified to take 149 passengers and is the primary vessel used for the ferry between the islands of Maui and Molokai. Both of these packages start from Lahaina Harbor with a 6:45am checkin. The ferry to Molokai departs at 7:15am and the cruise takes about 90 minutes each way. The return ferry departs Molokai at 4:00pm, arriving back into Lahaina around 5:30pm. A light continental breakfast is served on the way to Molokai.
Due to limited rental car availability and limited seats on the Alii tour, we recommend that you make advanced reservations for either of these packages well in advance of your arrival in Hawaii!
IM / V
---
Molokai Ali'i Tour - round trip ferry and guided tour
Available Monday, Tuesday, Wednesday, and Friday
Make the most of your day on Molokai with an experienced local tour guide in a comfortable air conditioned bus or van. The Molokai Alii tour list price is $260 for adults and $160 for children ages 4-12. Our discounted rate for the Molokai Alii Tour is $245 per adult, children ages 4-12 are $150, and infants 3 and under are free. This rate includes all taxes and fuel surcharges. In addition to continental breakfast available on the ferry, this tour also includes an "island style" lunch served at the Hotel Molokai. Highlights include the Kalaupapa Sea Cliff Lookout, Father Damien's churches (now St. Damien!), Purdy's Macademia Nut Farm, Hawaiian fishponds, a Molokai coffee plantation, "downtown" Kaunakakai, and more! Your local guide will explain much about Molokai's history, including the island's most famous resident and his dedicated work with those who were suffering from Hansen's Disease!
---
Molokai Cruise/Drive - round trip ferry and rental car
Available Monday through Saturday
For those who prefer to explore the island of Molokai on their own, the Molokai Cruise/Drive package includes round-trip same-day ferry service from Maui to Molokai, and a rental car for the day. List price is $275.40 for the driver of the car, additional adult passengers $125, children ages 4-12 $62.50. Our discounted rate for the cruise/drive package is $260.00 for the driver of the car; additional adults passengers are $118, children 4-12 are $59, and infants 3 and under are free. This rate includes round-trip ferry from Lahaina to Molokai, transfer to the Molokai Airport where you will pick up your car, and the car rental. It does not include Airport Facility Fee (approx. $15), insurance or gasoline options for the rental car. A shuttle picks you up at the ferry and takes you to the Molokai Airport to pick up your rental car. At the conclusion of the day you need to allow time to drop the car back at the airport for the shuttle ride back to the ferry. Parties are matched to an appropriate sized rental car; larger parties may need two vehicles and a second driver. Drivers must be a minimum of 25 years of age with a major credit card in their name.
---
Molokai Air Packages - Kalaupapa Tours
Available Monday - Saturday
The Molokai Air Pacakges journeys you down to Kalaupapa and you'll get a chance to tour the pennisula and discover the beauty and history unique to the island. The stunning cliffs exhibit nature's grandeur. Kalaupapa was first inhabited from about 650 AD, and for over 12000 years the people survived by fishing the rough oceans by outrigger canoe with nets and spears. The Hawaiians also farmed the harsh volcanic soil with sweet potatoes, onions and taro. Throughout the peninsula there are low rock walls that created thousands of small lots, and historians believe they were built as pens for raising pigs, windbreaks for growing crops, and property boundaries and land divisions. Heiaus for fishing were also built to make offerings.
When Hansen's disease (aka leprosy) was introduced to Hawaii, King Kamehameha V banished all afflicted to the Kalaupapa. Kalaupapa is surrounded on three sides by the Pacific ocean and cut off from the rest of Molokai by 1600-foot (488m) sea cliffs, so it provided the perfect isolated environment. Father Damien arrived in 1973, and he was a Catholic missionary priest from Belgium. He dedicated his life to serving the Hansen's patients, and not only did he administer faith, he also built homes, churches and coffins. Father Damien also arranged for medical services and funding from Honolulu, and became a parent to his diseased wards. He contracted the disease, and after 16 years of selfless service, died in 1889. Father Damien's wish to be buried among his people at Kalawao, and a black, concrete cross marks his grave site at Kalawao. In October 2009 he was canonized as a saint. In the 1940s, with the advent of sulfone drugs, Hansen's disease was put in remission and the sufferers are no longer contagious. Kalaupapa is now a National Historic Site, but access is very limited. It is home to approximately 122 residents, including just a handful of former patients.
Kalaupapa is an 11-thousand acre unincorporated community bordered by some of the highest sea cliffs in the world. Kalaupapa can be reached by air or by way of the trail descending the 1,600-foot-high (488m) cliffs. Along its course are 26 switchbacks that corkscrew in and out of canyons and ravines. This is four-hour guided ground tour of the Kalaupapa Peninsula includes all notable historic sites including Saint Philomena Church, the Bishop Home for Girls, lunch at the scenic Kalawao overlook, and the grave of Saint Damien. We offer 3 tours that fly you to Molokai and you choose how you'd like to descend to Kalaupapa:
Fly In Fly Out
Fly from Maui to Molokai, and experience the history and beauty of Kalaupapa. Our rate for the Fly In / Fly Out is $349.00
Check in: 8:45am at Makani Air at Kahului Airport General Aviation
Hike Down Fly Out
If you're looking for adventure with breathtaking views, the Hike Down Fly Out option is perfect for you. Our rate for the Hike Down / Fly Out is $249.00
Check in: 6:50am at Makani Air at Kahului Airport General Aviation (1 Keolani Pl, Kahului, HI 96732) and you will have to arrange to have a cab take you from the airport at Ho'olehua to Molokai Mule Ride (290 Pu'u Kapele Avenue), which is near the trail head.
Kalaupapa Tour: The total distance of your hike is approximately 3.2 miles. You should plan to be at the bottom of the trail at the mule corrals no later than 10:15 a.m. The bus tour starts there, and let the bus driver know that you are on a Hike down / Fly out package with Makani Kai Air Charter. At the end of the tour, you will stay on the bus and be dropped off at the Kalaupapa Airport.
Note: If there is inclement weather, please stop at the mule barn topside prior to starting down to check if there are any reports from Kalaupapa. It is rare, but once in a great while, bad weather will preclude you from making the hike to avoid unnecessary risks.
Mule Ride
The mule ride is a unique way to experience Kalaupapa. You will descend and ascend on mules, and you'll be able to take in the panoramic views. Our rate for the Mule Ride is $369.00
Check in: 6:50am at Makani Air at Kahului Airport General Aviation (1 Keolani Pl, Kahului, HI 96732) and you will have to arrange to have a cab take you from the airport at Ho'olehua to Molokai Mule Ride (290 Pu'u Kapele Avenue).
Kalaupapa Tour: The bus tour starts at the mule corrals at the bottom of the trail.
What to Bring & Wear: Closed toed shoes and long pants or long shorts are required.
Restrictions: The maximum weight for the mule ride is 250 pounds.
Note: If there is inclement weather, please stop at the mule barn topside prior to starting down to check if there are any reports from Kalaupapa. It is rare, but once in a great while, bad weather will preclude you from riding to avoid unnecessary risks.
General Information for all Kalaupapa Tours
Schedule: The tour is available from Monday through Saturday. No tours on Thanksgiving, Christmas and New Year's Day. Once you're in Kalaupapa (whether you fly in, hike down, or take the mule ride), the tour generally starts around 10am and is complete by 2pm.
Tour includes: Transportation, guided ground tour in a bus, lunch & bottled water.
Plane: Makani Kai Air uses nine-passenger turboprop Cessna Grand Caravans to fly to Kalaupapa.
Restrictions: Persons under the age of 16 are prohibited from going to Kalaupapa by the Hawaii State Department of Health.
Cancellation Policy: Cancellations require a 48-hour notice for full refund.
Cruise Ship Clients
Sorry, Molokai packages do not fit the itinerary of any of the cruise ships. The departure time of the ferry is too early.
ACTIVITY TIPS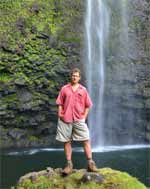 This is a great idea for people who have been to Maui before ... done most of the luaus, snorkeled at Molokini, taken a helicopter tour ... if you are looking for something different and off the beaten path, look no further than the beautiful island looming to the northwest of Maui.
If you do the cruise/drive package you have a choice with the rental car ... you can either head to the west end of the island with miles of expansive beaches, or you can head to the eastern side of the island, which is more lush and mountainous. Most people will head east, and cover the sites from the Kalaupapa overlook near the Molokai airport, to the Halawa Valley overlook on the far eastern side. Don't miss the short spur trail from the Kalaupapa Overlook that takes you to see the phallic rock (which appears to have received a little bit of shaping to make it resemble a ... well ... you know. If you don't know, look up the word phallic in the dictionary). Another must see site is the Saint Damien Church and his very lifelike statue found in Kamalo on Molokai's south shore.
For most people the most informative and productive use of your time on Molokai would be to do the Alii van tour. You'll learn much about the island's history and people. Most of the sites on the van tour are the very same places those who are driving the eastern side of Molokai would visit. With the van tour, you'll have the luxury of having someone to take you to these places, rather than trying to find them on your own. And since the big attraction to Molokai is the life and work of Father Damien (now St. Damien) who is reknowned for his work at the leprosy colony on the isolated Kalaupapa Peninsula, it makes sense to have a local guide who can tell you all about this history during the drive. The guided tour also has more time to explore than the cruise/drive package, because the van tour picks you up and drops you back off at the ferry. With the cruise/drive package you are shuttled to the airport to pick up the car, and dropping it off at the end of your day takes time.
Day tours to Molokai do not offer enough time to ride the mules down to Kalaupapa, or hike the trail that leads to this isolated penninsula (access to Kalaupapa is by advanced permission only). These packages offer the chance to look down on the Kalaupapa Penninsula from a very scenic overlook, which also offers a view of the dramatic north shore seacliffs of Molokai. To really see these cliffs, and the tallest waterfall in the state of Hawaii, also consider doing a helicopter tour of Molokai which leaves from the Kahului Airport on Maui.
The channel crossing can be bouncy at times, especially in the afternoon when the stiff trade winds kick up. Those who know they have motion sickness issues should bring along medicine, especially for the ride back when the ferry is typically traveling upwind.
One final thing ... don't confuse Molokai with Molokini. Molokini is a tiny crescent shaped island two miles off the south Maui coast and is a favorite destination for snorkel tours. Molokai is a large inhabited island northwest of the Maui.