Surf Lessons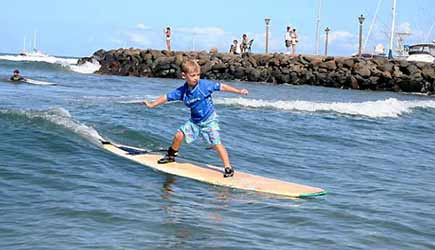 ---
Outrageous Surf in Lahaina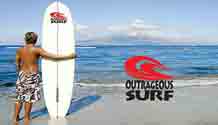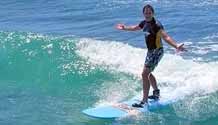 Group lessons: $65 per person are offered at 8:30am, 11am, and 1:30pm
Private lessons: $140 per person are available at 8:30am and 1:30pm
Lessons held Monday through Saturday, Closed Sundays. No lessons on 7/4/2011
Maui is a great place to learn how to surf, and there is typically a great beginner surf break just outside Lahaina Harbor. Let the professionals at Outrageous Adventures show you the basics. In the two hour lesson you will learn how to paddle and set up for the wave, the proper technique for standing up on the board, and important considerations for your safety. The cost of the lesson includes surfboard, rash guard, and reef walkers. To ensure personal attention, group lessons are limited to no more than 6-1 student-to-instructor ratio.
First-time surfers will benefit greatly from a lesson! Outrageous Adventures is SO CONFIDENT that they will succeed in getting you to stand up in your very first lesson that they will do the next lesson for free if you don't ... or even give you your money back!
To ensure your safety, all instructors are long-time Maui residents who know the local waters well, and are certified in first aid and CPR. Checkin is at the Outrageous Surf Shop in downtown Lahaina across the street from the famous Banyan Tree. The spot where the lessons is done is called "Breakwall" and is just south of Lahaina Harbor. For those who want to go along and watch or take pictures, you can walk out on the breakwall and you will be very close to the action! Breakwall is an excellent spot to do these lessons because it consistently receives good waves for beginner lessons no matter which direction the swell is coming.
If surfing sounds like fun, you might also consider a zipline tour ... see our Maui Zipline page for a family-friendly adventure that accepts children as young as 5. For more extreme zipline tours, see our Kapalua Zipline page and our Flyin' Hawaiian Zipline page.