Submarine / Semi-sub Tours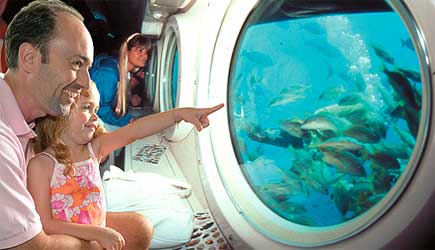 ---
Atlantis Submarine Maui
Submarine Dive Only: Adults $109, Children (12 & under) $45
Maui Value Pass which includes the Submarine Dive, Maui Ocean Center Aquarium, the Maui Tropical Plantation Tram Tour, and the Bailey House Museum: Adults $134, Children (12 & under) $59
Minimum height for submarine is 36". This event cannot accommodate individuals who are not physically capable of descending a ladder.
Submerge yourself in a different world, where your air becomes ocean, your foliage is a coral garden, and your vehicle is one of the world's most sophisticated submarines. Explore Maui's underwater paradise to a depth of 130' aboard the Atlantis 48 passenger submarine. Spacious, air conditioned surroundings and extra-large viewing ports allow you to relax and enjoy the wonders of the deep in your one hour adventure. Departure is from Lahaina Harbor, and the dive site now features the underwater wreckage of the Carthaginian, a replica of an 1800's whaling vessel. This vessel was sunk here in December of 2005 and has quickly attracted all kinds of fish and sealife!
While the submarine itself is the main attraction, for just $25 more per adult and $14 more per child you can upgrade to the Maui Value Pass. The aquarium admission alone is worth $25 per adult, so this is an incredible entertainment value and a "no-brainer" add-on to the submarine dive.
---
Reefdancer
60 Minute Tour: Adults $30, Children (6-12) $19
90 Minute Tour: Adults $40, Children (6-12) $25
5 & Under are free (1 per paying adult). Additional are at children's rate.
Maui's best shallow water reef tour is offered by the Reefdancer. You can enjoy the beauty of the West Maui Mountains on the top deck, or go down below where the reef will dazzle you. This is the family-friendly way to view the reef since children of all ages are welcome on these tours. They have two lengths of trips offered daily ... a one hour tour at 10:00am, 11:15am, and 1:00pm, and a 90 minute tour at 2:15pm. The 90 minute tour goes to a second "dive site" and includes refreshments.
The Reefdancer looks like a submarine, and the passenger compartment is underwater, but the vessel remains at the surface so that guests can go up onto the deck above water at any time. Scuba divers bring ocean creatures to the window for close up viewing for the kids.