Maui Snuba Diving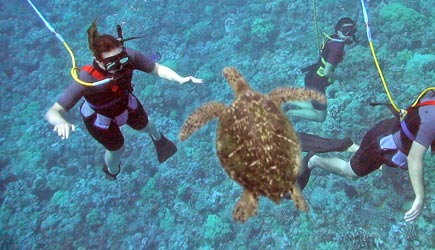 ---
MORNING MOLOKINI TOUR: Adults $94.95, Children (ages 3-12) $64.95, 2 & under free. Dates in 2015 will be $3 higher per seat.
SNUBA: adds $56.00 per adult or child to the snorkeler rate
Take your snorkeling experience to a whole new level of underwater adventure with a SNUBA DIVE on board the 50 foot Aqua Adventures boat. SNUBA is much like scuba diving ... you breathe compressed air through a regulator and can stay underwater for up to 30 minutes. But the snuba experience is a lot easier than a first-time introductory scuba dive because you don't have to wear all the bulky gear. The tanks don't go on your back ... instead they float on a raft that stays at the surface of the water and a hose comes down to your regulator. As you move around underwater the raft follows you around effortlessly, leaving you free to explore and focus on the experience, rather than struggling with the gear. Your dive instructor will lead you on a guided tour of the underwater world.
Aqua Adventures offers daily morning trips with two snorkel locations (normally Molokini for the first stop and Turtle Arches for the second). Check in is at 7am at Maalaea Harbor slip #51. This is the boat harbor in Central Maui just behind the Maui Ocean Center Aquarium along Highway 30. Some Molokini boats hold upwards to 140 people ... no such crowds on board Aqua Adventures ... while the vessel can hold 49, they limit the trip to just 36 guests per day. The boat is FAST too! Powered by twin 350HP motors, she cruises at 22 knots which means you'll be waving at other boats as you pass them on the way to the crater.
There are other boats that offer snuba as an on-board option, but no one does snuba better than Aqua Adventures. Their vessel is specifically designed for snuba diving with easy access in and out of the water. Their snuba instructors are the best in the industry. And with Aqua Adventures, you can pre-reserve your snuba dive (as opposed to other boats where you just sign up on board).
While SNUBA is Aqua Adventures' specialty, this boat is great for those who are only going to snorkel too. It doesn't matter if your party is ALL snorkelers, ALL snuba divers, or some of each. This is a 4.5 hour tour from 7:30am to 12 Noon ... those doing a snuba dive will have 30 minutes of underwater SNUBA time and another 30 minutes or so of snorkeling at one spot, and will have over an hour to snorkel at the other spot. Snorkelers who aren't SNUBA diving will have about 3 hours of water time split between the two dive locations.
Continental breakfast is served on the way out to Molokini Crater, and following the conclusion of your water activities a "build your own sandwhich" lunch is served, along with an open bar for beer, Mai Tais, and rum and Coke.
Aqua Adventures has an on-board videographer who will produce a DVD of your trip which is available for purchase. Wet suits are available to rent onboard for a very modest fee of $5. Underwater cameras, T shirts, and souvenir boarding photos are also available for purchase.
While children of all ages may go along to snorkel, the minimum age for snuba is 8. All snuba divers must fill out a health screening questionaire before participation. Occassionally someone will be disqualified from participating in snuba and in those cases we will refund the snuba dive portion of the ticket cost and only charge the basic snorkeler rate.
If you are considering snuba, you might also consider doing an introductory scuba dive on board the Maui Diamond.