Maui Rental Cars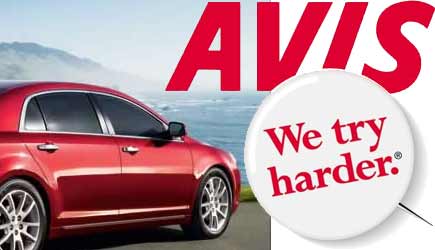 ---
Our agency offers excellent rates on Maui vehicle rentals with Avis Rental Car; they have two locations on the island. The vast majority of our clients will rent from the Kahului Airport location (OGG) as this is the airport where mainland and 98% of interisland flights arrive. This airport is very close to the Kahului cruise ship dock where the NCL Pride of America arrives,  and shuttle service is provided (see cruise ship information below). The other location is at Lahaina/Kaanapali in West Maui, and this location would be chosen by cruise ship clients who are arriving at the Lahaina dock or by the handful of people who fly into the tiny Kapalua Airport (JHM).
Low Season Base Rates
(4/1-6/20, 9/3-11/26, 12/1-12/13)
Compact $28/day; $143/week
Intermediate $31/day; $157/week
Full sized $38/day; $195/week
Convertible $53/day; $277/week
Luxury $59/day; $295/week
Minivan $54/day; $281/week
High Season Base Rates
(1/6-3/31, 6/21-9/2, 11/27-11/30)
Compact $55/day; $275/week
Intermediate $58/day; $290/week
Full sized $67/day; $335/week
Convertible $99/day; $495/week
Luxury $101/day; $505/week
Minivan $100/day; $500/week
Holiday Season Base Rates
(12/15-1/5)
Compact $75/day; $450/week
Intermediate $77/day; $462/week
Full sized $98/day; $588/week
Convertible $126/day; $756/week
Luxury $129/day; $756/week
Minivan $139/day; $834/week
Prices listed above are base rates which do not include rental car tax and facility surcharges. These are 2013 rates. 2014 rates are slightly higher.
---
Our recommendations on car sizes; parties of 2 adults and 2 children can comfortably be accommodated in one of the compacts. Midsized is fine for 4 adults. Parties of 5 should request a full-sized car. Minivans will hold a maximum of 7. Convertibles will only hold 4 people.
Some fine print ... which we will leave regular size type so you can really read it ... 
While the cost of the rental is paid directly to Avis, our office requires a credit card on file to guarantee the reservation.
The driver must be 25 years old or older with a major credit card in his/her name. Drivers 21-25 may also rent, but will need to pay an underage driver charge of $27 per day.
Daily rates are for a 24 hour rental period and includes unlimited mileage.
You are responsible for whatever liability and vehicle damage insurance you decide to take out on the vehicle, as well as the gasoline consumption, and any GPS units or car seats that you rent from Avis.
48 hours notice required for changes / cancellations of existing reservation
If you are a cruise ship passenger arriving at the Kahului dock (the NCL Pride of America arrives here once a week), you will request the rental car from the Kahului Airport location. The airport is very close to the dock. A phone number to request a shuttle will be in your email confirmation. Some clients decide to grab a cab to get to the airport to speed the rental car process along and make the most of their day ... it's literally a 3 minute ride.  
Most other cruise ships come to the Lahaina dock which is a tender port ... expect the tendering process to take an hour or so. Avis will pick you up at Lahaina Harbor and service your reservation from their Lahaina / Kaanapali location.