Maui Pineapple Tours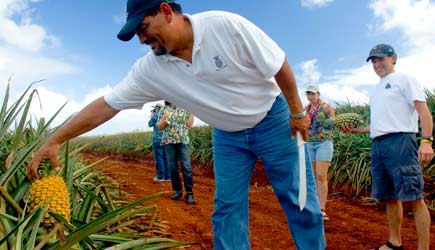 ---
Tour Cost: $65 for adults, $55 for children ages 5-12. No children under 5. This tour is held 7 days a week at 9:30am and 11:45am. An optional lunch next door at Haliimaile General Store is available for $20 per person on the 9:30am tour on Monday through Friday.
Pineapple is a universally recognized symbol of hospitality and Maui is the world's premier pineapple growing region. Maui Gold® pineapples are "born and raised" on Maui ... they are extra-sweet and loaded with three times the Vitamin C of traditional pineapples. 
Maui Gold® and Haliimaile Pineapple Company offer a pineapple plantation tour that is the only one of its kind in the entire nation. This 1.5 - 2 hour tour is led by pineapple workers whose colorful commentary weaves history, facts and trivia into an authentic pineapple plantation experience.
Not only do you get to see and taste pineapples growing in the fields, you also get to see the inside of the packing facility at Haliimaile! Tour participants check in at the Maui Gold Pineapple Bus parked in front of the Haliimaile Pineapple facility next door to the Haliimaile General Store, a well-known restaurant about 15 minutes up Haleakala Highway from the Kahului Airport. From there you will be transported in the Maui Gold tour vehicle to working pineapple fields in central Maui. Your guide will explain the pineapple growing process, and cut pineapples right from the fields for you to taste the varying stages. You'll learn first-hand why field-ripened pineapple are so much better than most of the ones you find at your grocery store back home.
The tour continues with a walk-through look at the unique packing and shipping factory at Haliimaile. All tour participants receive a one free pineapple, all boxed up for you to take home! Additional pineapples and boxes are available for purchase.
Closed toed shoes are recommended. No pregnant women are permitted on the tour. Minimum age for children is 5 years. Participants must sign a waiver of risk prior to participation in these tours.