Molokini Snorkel Tours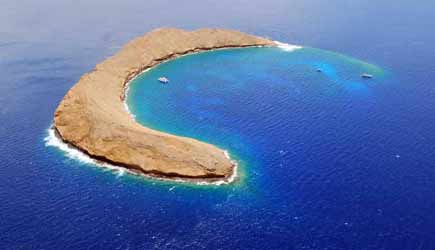 ---
Molokini is an ancient volcanic caldera that offers some of the clearest water for snorkeling anywhere in the world. It is located about 2 miles offshore from South Maui in the Alalakeiki Channel (between Maui and Kaho'olawe). Molokini is a marine sanctuary below water and a bird sanctuary above water. There is no access to the island itself; only those with research permits are permitted to go ashore. The incredibly clear water is due to its location in the middle of the channel and the lack of any sand deposits around the islet. No matter the wind or wave conditions the visibility here is unparalleled. A variety of snorkel tours are available; below is a selection of the best ways to experience Molokini Crater.
---
Aqua Adventures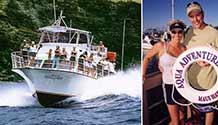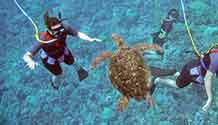 Smaller, faster boat ... less people ... snorkel and / or snuba at Molokini and Turtle Arches
MORNING MOLOKINI TOUR: Adults $94.95, Children (ages 3-12) $64.95, 2 & under free. Rates will be $3 per seat higher for dates in 2015
SNUBA: adds $56.00 per adult or child to the snorkeler rate
Aqua Adventures offers a two location snorkel tour (normally Molokini for the first stop and Turtle Arches for the second) with a 7am check in daily at Maalaea Harbor slip #51. This is the boat harbor in Central Maui just behind the Maui Ocean Center Aquarium along Highway 30. Some Molokini boats hold upwards to 140 people ... no such crowds on board Aqua Adventures ... while the vessel can hold 49, they limit the trip to just 36 guests per day. The boat is FAST too! Powered by twin 350HP motors, this vessel cruises at 22 knots which means you'll be waving goodbye to other boats as you pass them on the way to Molokini crater. This is a 4.5 hour tour from 7:30am to 12 Noon.
The basic snorkeler rate includes continental breakfast on the way to Molokini, snorkel gear and instruction, two snorkel locations, a really nice"build your own sandwich" deli lunch after you are done in the water, and an open bar for beer, Mai Tais, rum and cokes, soda and juice.
Want to try something really adventurous? Take your snorkeling experience to a whole new level of underwater thrills with a SNUBA DIVE on board the 50 foot Aqua Adventures boat. SNUBA is much like scuba diving ... you breathe compressed air through a regulator and can stay underwater for up to 30 minutes. But the snuba experience is a lot easier than a first-time introductory scuba dive because you don't have to wear all the bulky gear. The tanks don't go on your back ... instead they float on a raft that stays at the surface of the water and a hose comes down to your regulator. As you move around underwater the raft follows you around effortlessly, leaving you free to explore and focus on the experience, rather than struggling with the gear. Your dive instructor will lead you on a guided tour of the underwater world. It doesn't matter if your party is ALL snorkelers, ALL snuba divers, or some of each.
While children of all ages may go along to snorkel, the minimum age for snuba is 8. All snuba divers must fill out a health screening questionaire before participation. Occassionally someone will be disqualified from participating in snuba and in those cases we will refund the snuba dive portion of the ticket cost and only charge the basic snorkeler rate.
---
Pride of Maui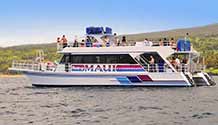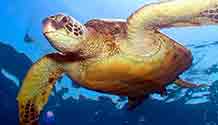 Molokini and Turtle Town ... larger, most stable boat
DELUXE MORNING SNORKEL RATE: Adults $91.00, Children (ages 3-12) $62.00, 2 & under free
The Pride of Maui takes you to Molokini in comfort ... offering glass-bottom viewing, a fun water slide, continental breakfast, an excellent BBQ lunch, and a refreshing open bar. This vessel is spacious and stable; her sprawling upper deck features unobstructed panoramic viewing and outstanding photo opportunities of the majestic Maui coast and surrounding islands. First stop is typically Molokini Crater, famous for its clear water and incredible array of undersea life. After snorkeling at Molokini, the boat makes a second stop at "Turtle Town" where you can swim with Hawaiian green sea turtles!
This powerful catamaran offers a fast, smooth ride to Molokini, which lies in the middle of the channel between Maui and Kahoolawe. The Pride of Maui trip includes all your snorkel gear, as well as a variety of flotation devices (for those who feel more comfortable swimming in the ocean when they have a little help). Snuba is available as an on-board option, and certified scuba diving is available when arranged in advance. The Pride of Maui AM Deluxe Snorkel is offered daily and has a check-in at the north loading dock at Maalaea Harbor at 7:30am; the tour is five hours long from 8:00am to 1:00pm.
The Pride of Maui has added a fuel surcharge of $4 per adult and child.
---
Fourwinds II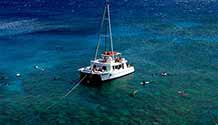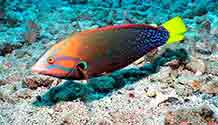 Most time at Molokini ... best glass bottom viewing area
DELUXE MORNING SNORKEL RATE: Adults $88.00, Children (ages 3-12) $58.00, 2 & under free
Four Winds II is a 55 foot glass bottom catamaran, fondly referred to as "the boat for fun-lovers". Once onboard, you'll soon discover why Maui's visitors consider this trip to be one of the best to Molokini and why we have become a local favorite too. With a crew that is dedicated to your needs and providing you absolute fun, this trip is a family favorite. It offers something for all ages. Breakfast, BBQ lunch, waterslide, glass bottom viewing, open bar, all snorkel gear and instruction ... and snuba is available as an option.
The Fourwinds has one destination ... Molokini ... and they stay there for the entire morning! You won't get to snorkel with sea turtles on this trip ... but you will get more time at Molokini than any other boat. The Fourwinds II AM Molokini Snorkel is offered daily and has a check-in at Maalaea Harbor slip#80 at 7:00am; the tour is five hours long from 7:30am to 12:30pm.
The Fourwinds has added a fuel surcharge of $5 per adult and child.
---
Blue Water Rafting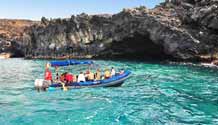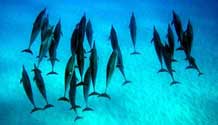 High adventure rafting ... best chance to see dolphins
Blue Water Rafting operates out of the Kihei small boat ramp, and offers a great alternative to people who are staying in a resort at Wailea, Makena, or one of the South Kihei condo properties. They offer four different tours, three of which go to Molokini crater. These tours are operated on a 24 passenger zodiac raft; their tours are exciting and fun for the adventure-seeker; no pregnant women, no neck or back injuries, and the minimum child age is 5.
Molokini / Kanaio Coast - Their signature trip ...explore the sea caves and lava arches of Maui's remote and rugged Kanaio Coast, which lies miles beyond the end of the road at La Perouse Bay. Discover secret coves and amazing lava rock formations formed during Maui's last eruptive period several hundred years ago. Dolphins are frequently seen in this area, and on rare occasions snorkeling with them is possible. Next stop is Molokini crater, and a variety of snorkeling opportunities there, including a long snorkel inside the crater, a drift snorkel over "reef's end", and a brief but memorable snorkel along the abyss that is Molokini's back wall on the outside of the crater. Premium snorkel gear with dry snorkel and a deli lunch are included. This tour is 5.5 hours long and is offered daily at 7am. Adults $125, Chidren (ages 5-12) $100 ($10 higher for dates in 2014)
Kanaio Coast - For those who have been to Molokini but haven't seen the rugged Kanaio Coast, this tour offers the chance to go where few other tours dare! This is the same tour as above without the stops at Molokini. Premium snorkel gear with dry snorkel and a deli lunch are included. This tour is 4 hours long and offered daily at 7am. Adults $100, Chidren (ages 5-12) $79 ($10 higher for dates in 2014)
Molokini Express - This is the quick way to see Molokini Crater. Because these rafts are so fast, it only takes them 15 minutes to zip out to Molokini from the Kihei small boat ramp. This tour offers the same Molokini snorkel opportunities as their longer morning tour ... 15 minutes out and back and 90 minutes of quality snorkeling at Molokini. Premium snorkel gear with dry snorkel is included. This tour is operated 7 days a week most of the year. During whale season is operates T, TH, SAT, SUN. Adults $50, Chidren (ages 5-12) $39 ($5 higher for dates in 2014)
Molokini / Whale Watch Combo - All the great Molokini snorkeling offered on the Molokini Express, plus an hour of watching Maui's winter residents, the majestic humpback whales. This tour is 2.5 hours long and is offered M, W, F at 11am during whale season, which runs from January 15th through April 15th. Adults $55, Chidren (ages 5-12) $45 ($60 adult / $55 child for dates in 2014)