Family Friendly Zipline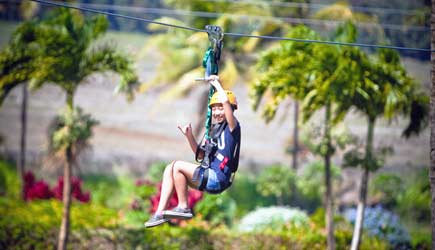 ---
Tour Schedule: 10am, 12:30pm, or 3pm (7 days a week): $110 per person
(Minimum age 5, minimum weight 50 pounds. Maximum weight 250 pounds. No neck or back injuries and no one pregnant. Depending on wind conditions, children who weigh less than 60 pounds may need to zip some lines in tandem with a guide. Chidren under age 10 must have a parent or guardian accompany them on the tour as a participant. Children 10 and older may participate with a parent or guardian signing a waiver and staying on the plantation grounds during the tour. All participants must sign a liability of waiver.)
Zip past swaying palms and over groves of mango and papaya on Maui's newest and most family-friendly tropical zipline adventure. Maui Zipline at the Maui Tropical Plantation offers a fun and exciting tour that your whole family can enjoy together. With five side-by-side ziplines ranging from 300 to 900 feet in length, this course offers the perfect opportunity to experience this fast-paced and exciting activity.
Your zipline adventure begins with check-in at the Maui Zipline booth at the Maui Tropical Plantation, which is centrally located on Highway 30 in Waikapu, which is halfway between Maalaea and Wailuku. After meeting your guide and getting set up with your gear, you have a short stroll on a well-maintained trail. At the top of the observation deck you'll be greeted with stunning bi-coastal ocean views and a beautiful view of the manicured gardens of the tropical plantation below you. On each line you will soar over lush gardens as highly trained guides oversee your safety and narrate your adventure with information on Maui's agricultural plants and culture. On the final line you'll pass through swaying palm trees and pass over the garden's large tropical lagoon!
Maui Zipline is the best value around for this sort of adventure. And it is the only zipline on Maui that can accommodate children as young as 5 and who weigh as little as 50 pounds. It is also one of the few courses where observers can watch much of the action from below at no charge. The exact length of time your tour takes to complete will vary depending on the size and confidence of those in your group, but allow two hours from check in to completion of your tour.
Maui Zipline is a family-friendly adventure that accepts children as young as 5. For more extreme zipline tours, see our Kapalua Zipline page and our Flyin' Hawaiian Zipline page.