Kapalua Zipline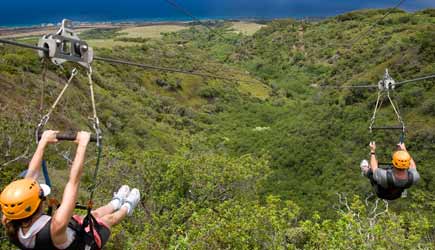 (Minimum age for all tours is 10. Minimum weight is 60 pounds and maximum weight is 250 pounds. No one who is pregnant or who has neck or back injuries or cardiac conditions may participate. Guests who are zip lining must be able to walk several hundred yards on uneven terrain and carry 15 pounds. All tours go out rain or shine; a minimum of 48 hours notice is required for cancellations or changes. All participants must sign a waiver of liability.)
High above Kapalua Resort on the slopes of the West Maui Mountains lies the "Mountain Outpost", the center of activity for the zipline tours and other exciting challenges offered by Kapalua Ziplines The Mountain Outpost features the second-longest zipline course in Hawaii with nearly two miles of parallel zipping action! The Mountain Outpost also features a 360' suspension bridge, the longest and highest in Hawaii.
The zip lines are the big attraction here, and their lines are LONG. The entire course measures out at 9190 feet of line ... times TWO! Each line is actually two lines running parallel to each other. These parallel lines offer partners the chance to zip at exactly the same time and yield great photo and video opportunities while soaring through the air! When you add it all up, Kapalua Adventures has over 18,000 feet of zip lines!
All adventures begin at the Kapalua Zipline location, which is next to the Honolua Store in the heart of Kapalua Resort. Here you will get set up with your gear and then participants ride a 4 wheel drive vehicle up to the Mountain Outpost and the start of your tour.

---
7 Zipline Tour - $199 per person
7 lines ... nearly TWO MILES of zipline fun. Start at the very top of the course with its breathtaking views and work your way down the mountain. This tour is approximately 4 hours and 15 minutes long and includes lunch. Offered 7 days a week at 7:30am, 8:30am, 12:30pm, and 1:30pm.

---
4 Zipline Tour - $169 per person
Lower 4 lines on the course ... nearly 5000 feet of zipline fun. Start just above the Mountain Outpost and work your way down to the bottom of the course. This tour is approximately 2 hours and 30 minutes long. Offered 7 days a week at 8:30am.
Kapalua Zipline is an extreme adventure with a minimum age of 10; for a more family-friendly course that takes kids as young as 5, see our Maui Zipline page.