Maui Horseback Riding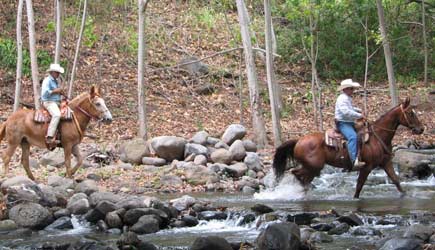 ---
Makani Olu Ranch
Makani Olu Ranch is a family oriented working cattle ranch and equine facility in Central Maui. Their unique location gives guests the opportunity to ride through diverse agriculture at the Maui Tropical Plantation and then up into scenic Waikapu Valley which offers a unique perspective of Haleakala, the north and south shore, and views back into the heart of the West Maui Mountains. Waikapu stream flows year round, and riders cross the stream twice on their ride.
The thing that sets Makani Olu Ranch apart from many other horseback rides in Hawaii is that the emphasis here is on small groups and providing a personal touch and the aloha spirit. Group rides are limited to a maximum of 8 guests, and private rides for one or two people are offered. Makani Olu Ranch rides are offered 7 days a week.
Plantation Ride with Lunch: A small group tour with maximum of 8 riders; check in is at 9:30am. This mostly walking-paced ride crosses Waikapu Stream, heads down to the Maui Tropical Plantation, and then up to a reservoir located higher up in Waikapu Valley where lunch is served. Total event length is 3 hours and total time in the saddle is between 1 1/2 to 1/ 3/4 hours. $125 per rider
Plantation Ride (no lunch): Same ride but without the lunch stop at the reservoir. Total event length is 2 hours and time in the saddle is between 1 1/2 to 1/ 3/4 hours. $105 per rider
Private Ranch Ride: For one or two people ... this ride caters to those who have some horseback riding experience but would like to improve their skills. Horsemanship and handling techniques that are easy to understand are demonstrated and explained. The exact route and pace of the ride will be based upon the guest's level of experience. Totoal event time is 3 hours with approximately 2.5 hours in the saddle. $150 per rider
Maximum rider weight is typically 220 pounds (may be able to extend to 230 for tall individuals; may be lower for very short individuals). Minimum age is 10 and minimum height is 4 feet 11 inches. Any exceptions to these minimums must be approved in advance when reservation is confirmed. All participants must sign a waiver of liability and riders under 18 require the signature of a parent or guardian. No pregnant riders permitted.
---
Mendes Ranch
All rides are $110 per person
Journey into an actual working cattle ranch nestled in the heart of West Maui and ride the range. Descend upon crashing waves overlooking pristine shorelines. Mendes Ranch offers a 1.5 to 2 hour ride at 8:45am and 12:15pm and the cost is $110 per person. At the end of the morning ride (or the beginning of the afternoon ride) you may enjoy a western-style open pit BBQ with Alan Mendes' own marinated "Azeka-style" ribs, generous portions of rice, baked beans, potato salad, gourmet cookies, and more at a cost of $30 per person. (Now available 7 days a week for the Morning ride; Monday through Saturday for the Afternoon ride ... minimum age 7 ... maximum weight 250 pounds)
---
Lahaina Stables
Nestled along the slopes of the West Maui Mountains, Lahaina Stables offers a 2 hour morning ride for $120pp, a 2.5 hour lunch ride for $145pp, and a 2 hour sunset ride for $130pp. Our recommendation is to do the sunset ride ... this is the most beautiful time of day as you watch the evening colors paint the ocean ... and the islands of Lanai and Molokai across the channel. This ride is probably the best choice for experienced riders as there is more freedom to cantor. Maximum weight is 230 pounds, and their minimum age is 8 (except by special permission for experienced young riders).  Lahaina Stables operates every day except Sundays.