Here you will find some useful links to help you plan your trip to Maui, and see some of the beauty of our island. Many clients ask for restaurant advice ... watch for this section coming soon!
Don't miss the waterfall page! If you would like to know where any of the waterfalls are located, give me a call when you arrive here on Maui and have an island map in front of you. I'll give you some guidance for finding waterfalls and secret spots that you aren't likely to find on your own. It's a little "perk" for being one of our happy clients!
wildlife
saving $$$
planning ahead
inter-island travel
restaurant choices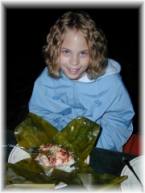 My daughter, Charis, about to enjoy a "lau lau" while camping. This is a traditional Hawaiian style of cooking where the food is wrapped in ti leaves and steamed.